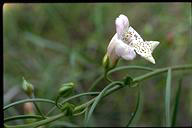 Eremophila bignoniiflora x polyclada - click for larger image
This frosty sunny walk starts at the old nursery site and continues up to view the flowers of the Mallee area of Western NSW and SA. On the way view the Pincushion Hakea, Hakea laurina [Section 20] a tall spreading shrub with golfball size deep red flowers with protruding lemon stamens. Up the road, Leptospermum squarrosum [Section 44] has long lateral branches with pink blossoms crowded around the terminal old wood.
Walking beside the old nursery site an Emu Bush, Eremophila glabra [Section 100B] is an upright shrub with greyish foliage and orange-red tubular flowers. Opposite, edging the road, Brachyscome multifida 'Breakoday' [Section 34] has small pink daisies over the green groundcover. Behind, also a groundcover, Grevillea lanigera [Section 34] has an abundance of pink and cream flowers.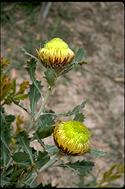 Dryandra quercifolia - click for larger image
Entering the boardwalk of this mallee area and in an anticlockwise direction the following flowering plants can be seen. Note also the many plants heavy in bud. Gastrolobium propinquum [Section 100B] is a low open plant with tiny red centred yellow pea shaped flowers at the branch terminals. Correa reflexa (variant 7) [Section 100A] is an upright shrub bearing many pendent very dusky red tubular flowers. Eremophila bignoniiflora x polyclada [Section 100B] is of medium size with a willowy habit and few large, bugle-shaped white flowers tinted with mauve and with dark spotted throats. Beside is Grevillea dielsiana [Section 100B, 100C], of similar size hanging its lovely orange-red flower clusters from branches with short fine divided foliage. In front Lechenaultia biloba [Section 100B] is low and dense with small blue flowers. Hypocalymma sp. [Section 100A] has small clusters of feathery pink flowers while Thryptomene denticulata [Section 100B] is low with lateral branches well covered with tiny pink flowers.
At the curve Eremophila oldfieldii subsp. angustifolia [Section 100C] is a slim upright shrub with few red tubular flowers amid many green calyces. Beside it is another Emu Bush, Eremophila subfloccosa [Section 100C], a rather odd looking plant with branches clad with woolly grey foliage and lime green flowers tight between the leaves. Dryandra quercifolia [Section 100C] is beside it, having sharp indented leaves, many brown buds and a few lovely yellow flower heads.
Banksia epica [Section 100A] is a low spreading shrub with squat lemon flower spikes dotted with brown stamens. Eremophila oppositifolia [Section 100A] is covered in profusion with pale pink curved tubular flowers while nearby, Eremophila youngii [Section 100A] is an open upright shrub with green-grey foliage and deep pink tubular flowers. Hakea cycloptera [Section 100C] is a medium rounded shrub covered in profusion with white lacey flowers. Acacia alata [Section 100C] is almost hidden behind. It is a low shrub with fluffy white flower balls on its zig-zag branches. Close by Astartea sp. [Section 100C]is a slim upright shrub well covered with open petalled white flowers. Opposite the exit is Banksia ericifolia [Section 103] with many brilliant gold flower spikes.
Another garden to enjoy…
Barbara Daly.