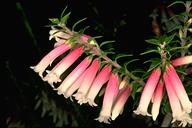 Epacris reclinata - click for larger image
Because there is much to enjoy in the Sydney Gully area this walk will start as marked on the map. Correas are plentiful edging this road. They include Correa 'Candy Pink' [Section 112], a fairly dense shrub quite florific with pink striped star flowers. Correa pulchella variant 10 [Section 112] is a more upright shrub with dusky red slim tubular flowers and a larger shrub, Correa sp. [Section 112] with cream-green tubular flowers which blend with the foliage. Taking the right path, Correa 'Marian's Marvel' [Section 112] spreads its branches bearing large pink and cream flowers. Seen along this path also are Crowea exalata shrubs [Section 112] with bright pink star flowers.
Continue along the former road to the next picturesque corner. Amongst numerous tall white mottled tree trunks of Eucalyptus mannifera subsp. mannifera [Section 191H] Crowea saligna [Section 191H] sits in a group, sparkling with prominent starry pink flowers. Grevillea rhyolitica subsp. rhyolitica (marketed as Grevillea 'Deua Flame') [Section 191H] has its terminal clusters of red flowers pendent from the small dense shrub. Flannel Flowers, Actinotus helianthi [Section 191H], are small silvery grey plants displaying few renowned daisy-like velvety white flowers above the foliage and the prostrate Scaevola ramosissima [Section 112] has purple flowers along its ground hugging stems.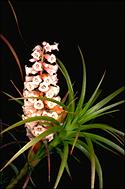 Dracophyllum secundum - click for larger image
Continuing down to the path on the far side of the gully view Scaevola aemula [Section 191H] with similar flowers on a dense semi-prostrate plant and Correa pulchella (prostrate orange) [Section 112], small rounded plants brilliant with orange tubular flowers.
Epacris longiflora [Section 191F] has narrow bright red tubular flowers with white mouth dangling from wiry branches. Also seen from this path are many banksias; and the gully has an abundance of tree ferns, Dicksonia antarctica. The walk along this path is truly a pleasurable experience. Crowea exalata [Section 191K], so attractive with its pink flowers, Banksia oblongifolia [Section 191F] is an upright open shrub with green and cream flower spikes, Banksia ericifolia [Section 191K] has bright golden flower spikes while behind a spray of white flowers from Lomatia silaifolia [Section 191K] can be seen. Passing the stairs, Correa lawrenceana var. macrocalyx [Section 191F] is a spreading shrub with slim tubular cream flowers while behind the seat Crowea saligna [Section 191F] is stunning with large pink flowers. Epacris pulchella [Section 191F] has tiny white flowers massed about the terminal branches and, in the valley, Baeckea linifolia [Section 191J] is a graceful shrub with tiny white flowers along its pendulous branches. Across the road, Acacia oshanesii [Section 191O] is a small tree with dark fern-like foliage and pale yellow flower balls. At the top of the path, Epacris reclinata [Section 191B] is a small shrub, stunning with its white mouthed pink tubular flowers in profusion. Beside is Dracophyllum secundum [Section 191], a spreading shrub with a mix of intertwined branches, short tapering leaves and small pink flowers emerging at the pinkish terminals. Epacris longiflora [Section 191M] here bears white tubular flowers. This path then meets the Main Path back to the Visitors Centre.
Another interesting relaxing walk… Barbara Daly.