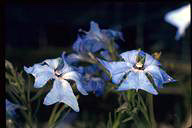 Lechenaultia biloba - click for larger image
Our fair city is so colourful with the yellow of falling autumn leaves. The Gardens too are colourful with flowers, in particular edging the drive to the gates are the gold flower spikes of the dwarf shrub Banksia 'Birthday Candles', the cream flower spikes of the prostrate shrub Banksia integrifolia, and the small yellow flower heads of Chrysocephalum apiculatum. The flowers about the buildings are also in abundance, some of which will be mentioned.
From the ramp Banksia 'Birthday Candles' [Section 210] has many flower spikes shaded gold to shades of brown when ageing. Opposite, surrounded by rocks, daisies include the mauve of Brachyscome multifida [Section 210] and the larger white flowers with yellow centres of Brachyscome segmentosa [Section 210]. An Emu Bush, Eremophila maculata [Section 210] is an open shrub having yellow curved tubular flowers while a Mint Bush, Prostanthera phylicifolia [Section 210] is a neat dense shrub bearing a violet flowers. Edging the path a Bamboo Grass, Austrostipa ramosissima [Section 210] has tall narrow leaves and long branches of fine feathery flower sprays.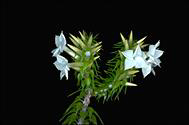 Woollsisa pungens - click for larger image
Descending the stairs and returning along Banks' Walk flowers include Lechenaultia biloba [Section 174], seen below the large cycad Macrozamia moorei [Section 174] with large trunk and large fronds, is a small shrub with pale blue flowers. Thryptomene saxicola [Section 174] is a small shrub with graceful arching stems prolific with tiny pink flowers. Hibbertia vestita [Section 174, 210] is a prostrate shrub with dark green leaves brightened with yellow flowers. A Kangaroo Paw, Anigozanthos 'Bush Noon' [Section 174] continues to exhibit yellow flowers on long upright stems and Epacris impressa [Section 174], Victoria's floral emblem, bears its small tubular cherry coloured flowers pendent from the wiry branches. Woollsia pungens [Section 174] is somewhat similar with white flowers clustered about the terminal branches. Behind, Eucalyptus 'Summer Beauty' [Section 174] continues to display its large clusters of pinkish-red fluffy flowers. From the lower path Eucalyptus 'Summer Red' [Section 174] is similar with red flower clusters while at the end of the section Crowea 'Festival' [Section 174] is a neat shrub so bright with deep pink star-like flowers.
In Ellis Rowan Garden, in front of the café building Grevillea 'Deua Flame' [Section 131] is a medium dense shrub bearing pendent terminal red flowers. Epacris 'Nectar Pink' [Section 131] is a low wiry plant so attractive with many pendent pink tubular flowers. Across the path Crowea 'Coopers Hybrid' [Section 240] is well endowed with star flowers. Looking downhill the brilliance of gold is that of Banksia ericifolia [Section 239] with its upright cylindrical flower spikes.
Further afield, for those who need to feel the heat and humidity of another world, the Display Glasshouse contains flowering orchids including Brassocattleya sp. with large crimson flowers on the small plant, seen just inside the doors, and Brassocattleya 'Pomelo Finney' x 'King of Taiwan', close by with large flowers almost white with purple lip and yellow throat. At the far end of the hothouse, Australian orchid Vanda sp. has small yellow and brown orchids in sprays with strappy leaves and very long descending exposed roots.
Short walk, much to admire … Barbara Daly.