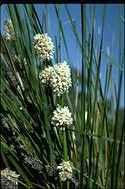 Lomandra leucocephala subsp. robusta - click for larger image
Hakea 'Burrendong Beauty' [Section 221], a semi-prostrate spreading shrub, is now bearing the first of its many globular red flower spikes. It is seen at the base of the stairs to the Visitor Information Centre. The walk now ambles up to the Rock Garden area and then across to the Rainforest Gully.
Edging Banks' Walk Banksia 'Birthday Candles' [Section 172, 210] is a dwarf shrub bright with many shades of upright golden cylindrical flower spikes. Kangaroo Paw, Anigozanthos 'Bush Noon' [Section 174] continues to bear its colourful yellow flowers on long upright stems and small trees, Eucalyptus 'Summer Beauty' [Section 174] and Eucalyptus 'Summer Red' [Section 174] have their own shades of red flowers.
Passing the Café building and in the Ellis Rowan Garden, long-flowering plants include Grevillea diminuta [Section 131], a small shrub with pendulous slim rust coloured flower spikes; Grevillea 'Deua Flame' [Section 131], a taller shrub with much brighter red flower spikes; and Epacris 'Nectar Pink' [Section 131], which has pink tubular flowers clustered in its tangle of branches. At the corner Banksia spinulosa var. spinulosa [Section 131] is dense and prolific with its golden flower spikes.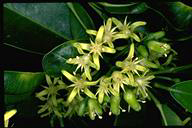 Acronychia littoralis - click for larger image
Continue on this ascending road where a Mulla Mulla, Ptilotus divaricatus [Section 127] displays its many globular rather tangled, hairy cream flower heads on upright stems of this dwarf spreading shrub. Below the large white branches of the much photographed Eucalyptus mannifera [Section 10], Thryptomene 'Pink Lace' [Section10] is a small shrub with arching branches covered with tiny pink flowers. Closer to the Rock Garden Correa alba var. alba [Section 107] has a profusion of white star flowers mixing with the silver edged leaves of this dense medium shrub. Following the path up the stairs of the Rock Garden Correa 'Ivory Bells' [Section 15D] is also dense with tubular ivory flowers. Close by the Thorny Scaevola, Scaevola oxyclona [Section 15D] is a dwarf shrub with an entanglement of spiny foliage beautified with lilac coloured fan shaped flowers. Behind the seat a She-oak, Allocasuarina rigida subsp. rigida [Section 15A] is a dense shrub glowing with rust coloured male flowers. In the centre of the opposite section Eremophila maculata var. brevifolia [Section 15F] is small with an abundance of claret coloured curved tubular flowers. Find also Lomandra leucocephala subsp. robusta [Section 15F], a small tufted plant with cylindrical woolly white flowers clustered along stems amid the narrow grass-like leaves. At the base of the stairs Plectranthus argentatus [Section 15A] is a suckering herb with velvety foliage and long terminal strands of tiny blue flowers reaching towards the path. This is only a sample of the many flowers in the Rock Garden.
Close to the Rainforest Gully Ricinocarpos gloria-medii [Section 17] is a small upright shrub clad with conspicuous white open flowers. Edging this garden, Brachyscome 'Breakoday' [Section 17] is small and dense with mauve daisy-like flowers. Edging the Rainforest Gully is Acronychia littoralis [Section 104, 114], tall and dense with dark shiny foliage and tight clusters of small lemon four-petalled flowers.
Good walking on these cool sunny days … Barbara Daly.