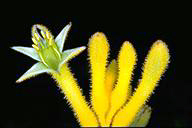 Anigozanthos 'Bush Glow' - click for larger image
Edging the road leading to the main gates the semi-prostrate Banksia integrifolia with silver backed leaves and upright lemon cylindrical flower spikes creep towards the road. With it is the colourful groundcover Chrysocephalum apiculatum, with yellow and orange button flowers.
This leisurely walk is in the higher reaches of the Gardens where bird life and colourful plants prevail. To start, Banks' Walk continues to be colourful containing the long flowering Eucalyptus 'Summer Red' [Section 174] with a blaze of red flowers in clusters on this small tree. Kangaroo Paw, Anigozanthos 'Bush Glow' [Section 174, 210] with its 'paw' flowers atop bare upright stems, continues to be colourful with its yellow-green flowers. Off the road edging the Rainforest, Callistemon 'Howie's Fire Glow' [Section 124] is a tall dense shrub with bright red bottlebrush flowers. At the far corner a groundcover, Scaevola albida [Section 124], is dense and sprinkled with small mauve fan shaped flowers. Continue uphill, turning into the Brittle Gum Lawn. Edging it is Grevillea 'Robyn Gordon' [Section 110] with its lovely terminal red flowers over a low open shrub. Banksia ericifolia [Section 110] brightens the area with its flower spikes, so gold while next to it is Hibiscus pedunculatus [Section 110], an open shrub bearing soft pink flowers.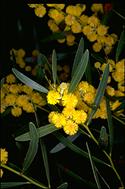 Acacia beckleri - click for larger image
Taking the road edging the rainforest, Acronychia imperforata [Section 104] is a tall dense shrub with glossy dark green foliage and clusters of small lemon flowers. In the triangle garden a Geraldton Wax, Chamelaucium 'Cascade Brook' [Section 17] continues to bear pink waxy flowers. The field of yellow to the right, is that of the straw flowers, Xerochrysum sp. [Section 121]. Across the road a grouping of Crowea 'Festival' [Section 121] is dense and well covered with pink star flowers. At the other corner, a shiny leaved Lilly-pilly, Acmena smithii [Section140], although not flowering is laden with small fruits just beginning to change to pink. Commersonia fraseri [Section 140] is a tall suckering shrub with greenish grey foliage and open clusters of small cream flowers. Opposite, Eucryphia wilkiei [Section 121] continues to bear cream cup shaped flowers over this rounded shrub.
Before taking the stairs to the right at the next corner where the Silver-leaved Mountain Gum, Eucalyptus pulverulenta [Section 37], is a small angular tree with opposite silver- grey leaves, many buds and few cream fluffy flowers and Banksia speciosa [Section 37] has long narrow deeply indented foliage with numerous old dark flower spikes and few yellow spikes. Ascending those steps, Banksia oblongifolia [Section 37] is well covered with green flower spikes. In particular, view the many juvenile flower spikes at its base. Banksia media [Section 37] is a small ageing shrub beautified with many large dense yellow flower spikes. Space now to discover the Barrier Range Wattle, Acacia beckleri [Section 1], a rather irregular medium shrub attractive with large perfumed flower balls dense along the branch terminals. This shrub grows along the narrow path past the covered shelter.
Good walking, pleasant environment …
Barbara Daly.