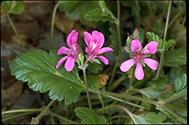 Pelargonium rodneyanum - click for larger image
This walk is around and about the Rock Garden to see the last of the summer flowers. On the way to this area see the many colourful beauties including a small Eucalyptus 'Summer Red' [Section 174], still blooming along Banks' Walk. In a clockwise direction ascending the stairs and edging the path, Banksia integrifolia var. integrifolia [Section 15C] is a prostrate plant dense with silver backed leaves and many upright cylindrical lemon flower spikes. Banksia 'Honeypots' [Section 15D] is a dwarf shrub with honey coloured flower spikes, almost concealed by a large shrub. Scaevola oxyclona [Section 15D] has small pink fan shaped flowers mixing with the spiky leaves of this small plant. Chrysocephalum apiculatum [Section 15D] is quite showy with its many button size orange-yellow flower clusters while Lechenaultia biloba [Section 15D] is more subdued with its powder blue flowers. Another small shrub, Pityrodia teckiana [Section 15D], has soft pink-white bugle shaped flowers, while across the stream Pelargonium rodneyanum [Section 15Q] is a colourful groundcover displaying its magenta geranium-like flowers.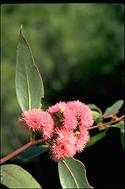 Eucalyptus lansdowneana - click for larger image
Eremophila warnesii [Section 15F] is a strange looking shrub with thick branches half densely covered with hairy leaves and purple bugle flowers. In front is Solanum sturtianum [Section 15G] an upright plant with deep purple open flowers. Grevillea lanigera [Section 15H] is a prostrate plant well covered with pink spider flowers covering this slope while a high backdrop of lemon flowers is that of Acacia subulata [Section 3]. Ascending the stairs, Plectranthus argentatus [Section 15A] is a suckering herb with velvety leaves and long spikes of tiny bluish flowers. The large ageing Grevillea 'Masons Hybrid' [Section 15H] with long lateral branches produces large and lovely terminal flower spikes with long red stamens. This grevillea has also been known as Grevillea 'Ned Kelly'.
Edging the top road a Geebung, Persoonia linearis x pinifolia [15H] is a large spreading shrub with limbs clad with pine-like foliage and tipped with small yellow flower spikes. Dampiera diversifolia [Section 15H] has deep blue flowers over this small ground cover while Dampiera sylvestris [Section 15H], nearby, is a suckering plant with blue flowers a shade lighter, on upright stems. Beside these, Scaevola albida var. albida [Section 15H] has white fan flowers in profusion.
Turning down between the Grass trees, Xanthorrhoea johnsonii [Section 15J] then turning left, near the seat Isotoma axillaris [Section 15H] is a perennial herb bright with blue star flowers. Kunzea pulchella [Section 15R] is of medium size dotted with bright red flower spikes. Returning and close to the sundial, view Glischrocaryon behrii [Section 15R], and upright shrub crowned with orange-yellow flowers. Around the corner an Emu Bush, Eremophila christopheri [Section 15R] has arching stems of mauve tubular flowers. In the centre of this section Eucalyptus lansdowneana [Section 15R] is a slender, spreading tree complete with many buds and, on the very top, fluffy red flowers.
A great section to enjoy this morning, with the background of laughing kookaburras…
Barbara Daly.