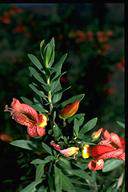 Eremophila maculata - click for larger image
Flowers along Banks' Walk are colourful. But why stop here for further afield beauty and variety continue. This walk concentrates on flowers of the mallee species of South Australia and Western Australia a section up behind the old nurseries. On the way admire the small Eucalyptus 'Summer Red' [Section 174] still with large clusters of red flowers, seen along Banks' Walk. A ground cover, Scaevola albida [Section124] is dense with many tiny blue fan flowers. Towards the Rock Garden Correa alba [Section 107] is a dense shrub with white star flowers mixing with the silver edged foliage. In an opposite corner Plectranthrus argentatus [Section 110] is a small upright suckering herb with large velvety leaves and terminal tiny bluish flowers crowded along long stems.
After a journey through the interesting Rock Garden, continue up to the old nursery surroundings. The road opposite the mallee section is edged with ground covers, some reaching over the rock walls. They include Chrysocephalum apiculatum [Section 34] with green or grey foliage and clusters of small orange-yellow flower heads, Grevillea lanigera [Section 34] with pink and cream spider flowers and Brachyscome multifida 'Breakoday' [Section 34] with small purple daisies amid its soft green foliage.
From the opposite side of the road an Emu Bush, Eremophila maculata [Section 100], is an open shrub with crimson tubular flowers and Halgania anagalloides [Section 100] a dwarf shrub with deep blue flowers.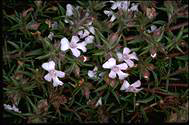 Hemiandra pungens - click for larger image
At the top of this section take the boardwalk in an anticlockwise direction. Hemiandra pungens [Section 100A] is a prostrate plant with pink flowers along its lateral branches. A Mint Bush, Prostanthera incurvata [Section 100A], has pale creamy pink tubular flowers on this small open shrub. Eremophila bignoniiflora x polyclada [Section 100B] has long rambling branches with large bugle flowers coloured pale mauve with deeper lips and speckled throat. Beside this in the foreground is a row of Lechenaultia biloba [Section 100B], low and dense having many tiny blue flowers to brighten. Behind is Grevillea dielsiana [Section 100B, 100A] a taller shrub with sharp divided leaves and attractive pendent orange-red flower clusters. The hibiscus-like purple flowers on open branches are those of Gossypium sturtianum [Section 100B], the floral emblem of the Northern Territory. Hypocalymma sp. [Section 100A and elsewhere] is a rounded shrub with deep pink lacey flowers clustered along the terminal branches. Thryptomene denticulata [Section 100B] is a low spreading shrub with lateral branches enveloped with tiny pink flowers. At the curve Dryandra quercifolia [Section 100C] is upright with sharp leaves, many brown buds and a lovely yellow flower head. Banksia epica [Section 100A] is a low spreading shrub with almost round lemon fluffy flower spikes and Banksia ornata [Section 100A] is taller with dull gold cylindrical flower spikes. At the exit Lambertia ericifolia [Section 100C] is a many branched tall shrub bright with orange-red flowers of its own design.
Opposite, Banksia ericifolia [Section 103] is a grand old shrub exhibiting its long golden flower spikes while up in the distance the tall slim shrub clad with clusters of orange fruits is Auranticarpa rhombifolia [Section 96].
Great walk, much to enjoy … Barbara Daly.