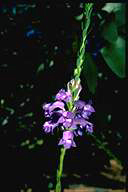 Eremophila christopheri - click for larger image
This walk will include a variety of different flowers. In a pot outside the Visitor Centre doors, Acacia mollifolia with soft velvety green divided leaves and bright yellow perfumed flower balls on branches arch over the path. Edging Banks Walk most Kangaroo Paws have flowered, however Anigozanthos 'Bush Noon' [Section 210, 174] continue to have bright yellow 'paw' flowers on long bare stems. Chrysocephalum apiculatum [Section 174, 210], are dwarf suckering plants which brighten any garden with many small clusters of bright orange flower heads. Eucalyptus 'Summer Red' [Section 174] is a small tree with clusters of bright red fluffy flowers. At the end of this section, Crowea 'Festival' [Section 174] continues to be bright with pink star shaped flowers, and in the crescent garden Dampiera sylvestris [Section 66] has deep blue flowers on upright stems.
In front of the café building, in the Ellis Rowan garden, a medium size shrub Grevillea rhyolitica subsp. rhyolitica [Section 131] continues to be bright with terminal red flowers. Epacris 'Nectar Pink' [Section 131] is clad with lovely white mouthed pink tubular flowers along its low wiry branches and Epacris 'Portland Red' [Section 131] is similar with smaller deeper pink flowers. Across the path a grouping of bottlebrushes, Callistemon 'Splendens' [Section 240] are large shrubs bearing many red flowers. Many callistemon, mostly in shades of red, are now flowering. Note also that banksias now have juvenile flower spikes.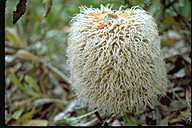 Banksia baueri - click for larger image
Follow the Main Path to view Emu Bushes which include Eremophila maculata var. maculata [Section 302], an open shrub with bright yellow tubular flowers, and Eremophila christopheri [Section 302] of similar shape with mauve-blue flowers. Possum Banksia, Banksia baueri [Section 30], is a small dense shrub with fairly slim juvenile woolly greyish flower spikes mix with the aged rounded flower spikes. Close by Banksia 'Birthday Candles' [Section 30] is dwarf and spreading decorated with upright golden flower spikes. Behind is Grevillea 'Coconut Ice' [Section 30] with large terminal red-cream flower spikes. Another bottlebrush, this time with pink flowers, Callistemon 'Reeves Pink' [Section 30], is quite a large dense shrub. Just before the next road crossing, see Buckinghamia celsissima [Section 27]. This tall upright shrub with long lobed shiny leaves is now in full flower with long lateral and upright stems densely covered with deep cream flowers… quite a sight!
Returning along this road, Swamp banksia, Banksia robur [Section 25] is quite a large shrub with large leathery leaves and many old flower spikes. Look closely to see the slim juvenile flower spikes coloured a deep olive green. Over the road Banksia aemula [Section 24] is also large and dense and continues to bear many cream shaded flower spikes. Mint bushes here have a sprinkling of flowers. Prostanthera cryptandroides [Section 6] is a low spreading shrub well covered with purple trumpet shaped flowers with lighter throat. The small suckering plant edging this path is Teucrium racemosum [Section 6]. It has small white flowers with prominent lip.
Hot weather yes… and such a variety of flowers…
Barbara Daly.