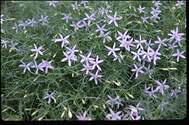 Isotoma axillaris - click for larger image
This walk features the Rock Garden where there are many colourful plants to admire. Start at the base of the waterfall where Lythrum salicaria [Section 15Q] enjoys the wet situation and reveals the last of its pink flower spikes on long upright stems. Ascending the stairs Rhodanthe chlorocephala subsp. rosea [Section 15C] covers the area with its pink and white daisies. A dense prostrate plant, Banksia integrifolia subsp. integrifolia [Section 15C], edging the path, has silver backed, dull green foliage brightened with many upright lemon cylindrical flower spikes. Opposite Grevillea 'Poorinda Royal Mantle' [Section 15D], also dense, cascades down the rock face with red toothbrush-like flowers enjoyed by the buzzing bees. Scaevola oxyclona [Section 15D] has small pink fan shaped flowers mixed with the entanglement of spiky branches of this little shrub and Ptilotus obovatus 'Cobtus' [Section 15D], also small, has rounded woolly grey flower heads. Behind, Pityrodia teckiana [Section 15D] is small with soft pink-white bugle shaped flowers.
This colourful area includes the blue star flowers of Isotoma axillaris [Section 15G], a perennial herb which self-seeds about the Rock Garden; the open violet flowers mixing with the greyish foliage of Solanum sturtianum [Section 15G]; and a small upright shrub, Halgania cyanea [Section 15G], low and spreading with rich blue flowers. Commersonia sp. [Section 15G] has a scattering of pink open flowers over the small many branched shrub. Not to be overlooked, Goodenia macmillanii [Section 15G], seen under the rockface, bears its lovely pink flowers along its trailing stems.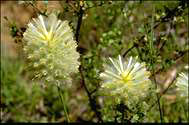 Ptilotus macrocephalus - click for larger image
Edging this top road where perfume permeates the atmosphere, from wattles including Acacia subulata [Section 3], an upright shrub clad with long fine foliage and massed with sprays of lemon flower balls. A Geebung, Persoonia linearis x pinifolia [Section 15H] with soft pine-like foliage edging the somewhat pendulous branches terminate with yellow flower spikes. Scaevola albida var. albida [Section 15H] continues to display a covering of white fan-shaped flowers and Dampiera sylvestris [Section 15H] is a suckering plant with blue flowers on upright stems. At the next corner Brunoniella australis [Section 15H] is an attractive small dense plant with mauve trumpet-like flowers. At the next corner Artanema fimbriatum [Section 15J] is a small plant with narrow leaves and bears lovely blue, white streaked bugle shaped flowers.
At these grass trees, Xanthorrhoea johnsonii [Sections 15J, N], meander down to the next selected area. View Glischrocaryon behrii [Section 15R] with tall orange tinted branches and eye-catching orange-yellow open flowers. Brachyscome formosa [Section 15R] at the corner is a dense ground-cover bearing many mauve daisy-like flowers on short upright stems. Eremophila christophori [Section 15R] has angulated stems of mauve tubular flowers while beside it is Ptilotus macrocephalus [Section 15R], an upright herb with cylindrical heads of grey fluffy flowers, and throughout the rocky garden the brightness of the Xerochrysum sp. with their yellow straw flowers are quite stunning.
A most fascinating section … Barbara Daly.