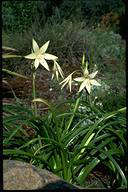 Crinum flaccidum - click for larger image
To follow the Main Path through many colourful sections of the Gardens start at the far end of the Café building where a large bottlebrush, Callistemon viminalis [Section 310] arranges its deep red bottlebrush flowers at the tips of its willowy branches. In the garden of grasses and rushes is the Darling Lily, Crinum flaccidum [Section 8] a bulbous plant with startling white petalled flowers on long upright stems. There also is the Garland Lily, Calostemma purpureum [Section 8] bearing numerous trumpet shaped wine coloured flowers on long upright stems. Over the path a yet small Possum Banksia, Banksia baueri [Section 30] shows off its new rather woolly greyish-lemon flower spikes which mix with the large aged charcoal flower spikes. Banksia 'Birthday Candles' [Section 30] nearby is a dwarf shrub with a continuously wide spread and is prolific with upright new pencil-shaped and maturing golden flower spikes. At the next cross-roads Buckinghamia celsissima [Section 27] is so interesting, for this upright slim shrub well clad with long leaves has an abundance of long wavy greenish-cream flower spikes which will mature to cream flowers.
Across the road Banksia marginata 'Cape Patterson Dwarf' [Section 26] is prolific with small upright lime coloured flower spikes. Behind the seat a native Wandering Jew, Commelina cyanea [Section 24] is quite a dense ground-cover bright with blue three- petalled flowers. The path continues through many eucalypts with white mottled trunks amid grevilleas, reaching the Sydney region gully. Many flowers seen from this winding path include Goodenia heterophylla subsp. heterophylla – montana [Section 191H] with small yellow flowers over a dwarf plant; Scaevola aemula [Section 191H] with purple fan shaped flowers on its trailing stems; and Flannel Flowers, Actinotus helianthi 'Federation Stars' [Section 191H] with velvety silver-grey foliage surround the white daisy-like flowers. In another area the blue flowers of Dampiera stricta [Section 191P] can be seen with Epacris impressa [Section 191P], Victoria's floral emblem, its tiny red tubular flowers crowded along the terminal stems. Behind this, see a Red Bloodwood, Eucalyptus gummifera [Section 191P] with large clusters of white feathery flowers topping this small dense tree.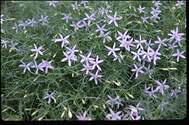 Isotoma axillaris - click for larger image
Towards the top of this path, a Geebung, Persoonia acerosa [Section 191E] is a small upright shrub with a scattering of tiny yellow flower spikes over the bright foliage. In the display garden Christmas Bells, Blandfordia grandiflora [Section 191U] have large yellow bell shaped flowers pendent from the upright stems.
The path winds through the Eucalyptus Lawn down to the Rock Garden with its many floral treasures including Isotoma axillaris [Section 15R] with its blue star flowers and Lythrum salicaria [Section 15U] with upright branches tipped with pink flowers.
A wander through the wondrous Rainforest Gully with its remarkable variety of plants and then to the ramp where the brilliance of our Australian native Rhododendron lochiae [Section 313] with its loose cluster of rich red bell shaped flowers can be seen on the low spreading plant.
So many flowers to admire … Barbara Daly.