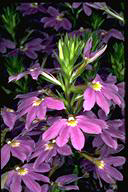 Scaevola 'New Blue' - click for larger image
Come walk with me to view some attractive flowers. See the large banksia trees behind Sir Joseph Banks' memorial with their large cylindrical grey-cream upright flower spikes amid the dark foliage of Banksia serrata [Section 174]. Edging Banks' Walk Epacris impressa [Section 174], Victoria's floral emblem, crowds its pink tubular flowers towards the tops of upright stems covered with small sharp leaves. At its base the bright yellow flowers are those of Hibbertia vestita [Section 174]. Pelargonium rodneyanum [Section 174] edging the path, has magenta coloured flowers on upright stems above the dense foliage. To view our native rhododendron, climb the stairs where Rhododendron laetum [Section 148] shows off its sprays of loosely arranged terminal clusters of red trumpet shaped flowers among the shiny dark green leaves.
Along the lower path in front of the café building Crowea 'Green Cape' [Section 240] is a small shrub with small pointed pink star-like flowers. Crowea saligna [Section 240] is a taller shrub with wax-like leaves and larger pink flowers and the dense planting of Crowea 'Cooper's Hybrid' [Section 240] in the centre of the garden is sprinkled with pink flowers. Scaevola 'New Blue' [Section 240] hugs the earth with lateral branches packed with its blue flowers while beside it is Goodenia macmillanii [Section 240], with similar habit and few of its soft pink flowers. Hibbertia kaputarensis [Section 143] brightens the corner with its yellow flowers over this prostrate plant.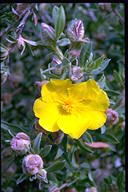 Hibbertia kaputarensis - click for larger image
At the upper corner, Callistemon viminalis [Section 310] with dark deeply furrowed trunks drape its arching branches with deep red bottlebrush flowers over the path. From the Main Path a Teatree, Leptospermum petersonii [Section12] has small white flowers covering the branches which also arch over the path. Callistemon chisholmii [Section 11, 10] is splendid with a dense coverage of short bottlebrush flowers ageing white over the tall shrub. When the fresh pink flowers covered the shrub the scene was then supurb. Callistemon citrinus [Section 9] seen down the side path, is a large rounded shrub profuse with red flowers.
Emu Bush, Eremophila goodwinii [Section 302] is a small open shrub bearing lilac bugle flowers while nearby Eremophila christophori [Section 302] has mauve, almost blue flowers. Darling Lily, Crinum flaccidum [Section 8] can be seen in this section of grasses. The rather spectacular sprays of large white flowers are on long upright stems surrounded by short limp leaves. Most interesting is Banksia baueri [Section 30]. This yet small rather dense shrub is now bearing many young woolly cream flower spikes mixing with the aged charcoal spikes. Banksia 'Birthday Candles' [Section 30] is dwarf but just keeps on spreading and producing many upright new pencil shaped maturing to almost gold flower spikes. Banksia pilostylis [Section 25] behind the notice board, is a small shrub with vivid cream flower spikes. At this next junction Buckinghamia celsissima [Section 27] is a medium slim shrub with long leaves and now with long showy pendulous spikes of green-cream flower buds which will mature to cream flowers. The Sydney Region Flora is ahead, or return to the Rock Garden, both a source of enjoyment.
Just a lovely place to visit … Barbara Daly.