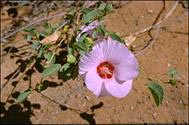 Gossypium sturtianum - click for larger image
This walk views the flowers in the dryer warmer Mallee Section containing plants from SA and WA. On the way, edging the Rainforest, are hibiscus plants which include the most apparent Hibiscus heterophyllus subsp. heterophyllus [Sections 114,104] with large white open flowers with red splashes, the yellow flowering Hibiscus divaricatus [Section 114] and Hibiscus splendens [Section 104] with red flowers.
Now, take the road up the rise edging the old nursery site. Eucalyptus lansdowneana subsp. lansdowneana [Section 100B] is upright and lanky showing off a scattering of crimson fluffy flowers. Beside is Eucalyptus yalatensis [Section 100B] a shorter many branched tree with white fluffy flowers. The floral emblem of the Northern Territory, Sturt's Desert Rose, Gossypium sturtianum [Section 100B] of medium size has rounded leaves and large pinkish mauve flowers. Halgania anagalloides var. preissiana [Section 100B] is a dwarf open shrub well covered with small deep blue flowers. Close by, Homoranthus wilhelmii [Section 100B] is another dwarf plant with white flowers in clusters. These tiny flowers have long protruding styles. A net bush, Calothamnus chrysantherus [Section 100B] is bright with almost one-sided bottlebrush flowers amid the long needle foliage over the medium shrub. At the corner Hibbertia sericea [Section 100B] is bright with yellow open flowers.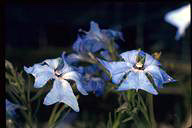 Lechenaultia biloba - click for larger image
Take the first boardwalk entry where an emu bush, Eremophila christophori [Section 100A] has long slender branches tipped with mauve bugle shaped flowers. Myoporum turbinatum [Section 100B], like so many plants in this section, is small, This plant is open with tiny white, with a tint of pink, flowers edging the stems. Lechenaultia biloba [Section 100B] is low, straggling, suckering and attractive with its blue flowers. Behind, Grevillea dielsiana [Section 100] is much taller with sharp short divided leaves and few lovely orange-red pendulous flowers. Thryptomene denticulata [Section 100B] is low with arching branches covered wiith tiny pink flowers.
At the curve Hypocalymma sp. [Section100B] is small and dense with clusters of pink fluffy flowers. Opposite, ative Lemon Grass, Cymbopogon ambiguus [Section 100A] is an upright attractive grey-green tufted grass with heads of brownish flowers. Passing the bend, Verticordia monadelpha [100A] is quite startling with a vivid pink flower coverage. In front, not very conspicuous, Blue Grass Lily, Agrostocrinum scabrum [Section 100A] has long flattening grass-like leaves with blue starry flowers on long bare stems. Another shrub with vivid flowers is Solanum sturtianum [Section 100A] prolific with deep purple flowers blending with the grey-green foliage. Goodenia varia [Section 100C] is a small prostrate spreading plant with yellow flowers to brighten its dark green foliage. Nematolepis phebalioides [Section 100A] is a small upright shrub with vivid red narrow tubular flowers tipped green-yellow. Kangaroo Paws in the valley include the green-yellow flowering Anigozanthos 'Bush Dawn' [Section 100A] and Anigozanthos 'Bush Sunset' [Section 100A] ablaze with deep red flowers. Lambertia ericifolia [Section 100C] is tall and profuse with its bright orange-red interesting flowers.
Hot and well worth the walk … Barbara Daly.