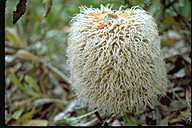 Banksia baueri - click for larger image
Summer heat, cooling breeze, bird songs and an assortment of flowers so come and wander along the Main Path. Firstly, on either side of Banks Walk, see the small gums, Eucalyptus ficifolia [Section 210, 147] all covered with large clusters of red fluffy flowers. Then starting at the far end of the café building, an Emu Bush, Eremophila christophori [Section 302] is a small shrub bearing mauve tubular flowers. The Blue Devil, Eryngium rostratum [Section 8] surrounded by grasses, has metallic blue spiky flower heads on stiff bare branches. In the distance Kangaroo Paws, Anigozanthos 'Bush Ranger' [Section 7] with red flowers and Anigozanthos 'Bush Gold' [Section 7] with yellow flowers are most colourful.
Banksia baueri [Section 30] is well covered with old woolly flower spikes mixing with fresh juvenile lemon flower spikes. Banksia 'Birthday Candles' [Section 30] also reveals its juvenile pencil thin green flower spikes over this dwarf spreading plant. Banksia pilostylis [Section 25], behind the notice board, has mature lemon flower spikes over a small shrub. Geebung, Persoonia acerosa [Section 24] is low and dense with fresh green foliage and tiny yellow flowers grouped towards the tips.
Saw Banksia, Banksia serrata [Section 112] is tall and dense and bears many mature grey-cream flower spikes. Entering the Sydney Region Gully, the corner is bright with yellow pea flowers covering the pendulous branches of Platylobium formosum [Section 191H]. At its base small plants include Goodenia heterophylla subsp. heterophylla - montana [Section 191H] covered with tiny yellow flowers. Flannel Flower Actinotus helianthi 'Federation Star' [Section 191H] has velvety silver-grey foliage with the lovely white daisy-like flannel flowers. Fringed Lily, Thysanotus tuberosus [Section 191H] is small and upright with purple fringed three-petalled flowers. Continuing along this path, Scaevola aemula [Section 191H] has purple fan-shaped flowers along its trailing stems and groundcover, Hibbertia microphylla [Section 191S] has bright yellow open flowers.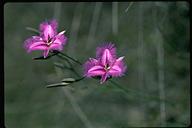 Thysanotus tuberosus - click for larger image
At this look-down, sit awhile, enjoy the sounds of the stream and the bird calls and the beauty of this wonderland. Then find a wattle, Acacia linifolia [Section 191D], a small tree with soft lemon flower balls. Grevillea acanthifolia subsp. acanthifolia [Section 191M] has long low branches with pink toothbrush flowers. Then, cross the Eucalypt Lawn which displays large flags of Ladybirds on flowers… really interesting.
The Rock Garden, always interesting, includes, in front of the waterfall, the colourful Lythrum salicaria [Section 15Q] with upright spikes of purple flowers. The small angular Eucalyptus extrica [Section 15V] continues to bear soft fluffy flowers.
At the entrance of the cooling Rainforest, Hibiscus heterophyllus [Section 104, 114] is tall and graceful with large white, flowers with a splash of purple. See the Dorrigo Waratah, Alloxylon pinnatum [Section 147] a small tree crowned with loose red flowers.
The ramp too has flowers, including Scaevola calliptera [Section 210] with deep purple fan shaped flowers along the trailing stems.
Pleasant walking … much to admire … Barbara Daly.