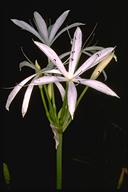 Crinum angustifolium - click for larger image
This walk will highlight plants in the Rock Garden. Numerous plants have been scorched by the recent hot days. Regardless there are many flowers to view. Start at the base of the waterfall where Lythrum salicaria [Section 15Q] tips its upright branches with pink flowers and Eucalyptus extrica [Section 15V] with an angular trunk has fluffy white flowers. In a clockwise direction and ascending the stairs, Grevillea 'Poorinda RoyalMantle' [Section 15D] densely carpets the slope with dark red toothbrush-like flowers. Scaevola oxyclona [Section 15D] is a small entanglement of spiky branches beautified with small pink fan shaped flowers. Garland lily, Calostemma purpureum [Section 15B] has long strappy leaves and heads of pink trumpet-like flowers atop long upright stalks. Field lily, Crinum angustifolium [Section 15D] has large white flowers with rose coloured anthers, atop long upright stalks. Ptilotus obovatus 'Cobtus' [Section 15D] is a silvery grey shrub capped with small woolly grey flower heads. Behind, Pityrodia teckiana [Section 15D, 15R] is a dwarf spreading plant bright with soft pink-white bugle shaped flowers.
Eremophila warnesii [Section 15F] is a strange looking shrub with short thick branches covered densely with hairy leaves and deep purple bugle flowers. Isotoma axillaris [Section 15G and elsewhere] are dainty small plants with blue star-like flowers. Senna artemisioides subsp. petiolaris [Section 15G] is a taller many branched shrub dotted with yellow flowers. Below, under the rock shelf, Goodenia macmillanii [Section 15G] shows off its soft pink flowers along the trailing stems.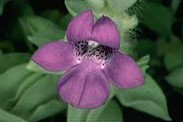 Eremophila warnesii - click for larger image
Edging this garden, Brachyscome nova-anglica [Section 15B] is a soft mounding plant complete with bright pink daisy like flowers. Ascending the stairs to the upper road, Grevillea 'Masons Hybrid' [Section 15H] with large wandering branches, continually bears terminal clusters of cream-red flowers. Beside, a Geebung, Persoonia linearis x pinifolia [Section 15H] has soft pine-like leaves edging the pendulous branches terminating with spikes of yellow flowers. Scaevola albida var. albida [Section 15H] has white fan shaped flowers and nearby Dampiera sylvestris [Section 15H] is a suckering plant with blue flowers. Along this road are numerous kangaroo paws, Anigozanthos flavidus [Section 15H] with dusky red 'paw' flowers atop very long upright stems.
Continuing along this road, returning on the lower level, there are many attractive flowers. About the seat, Frankenia uncinata [Section 15N] is a spreading dwarf shrub, here with branches resting on the rocks, and bearing tiny pale pink flowers. Halgania cyanea [Section 15N] has vivid blue flowers over the small dense shrub. Grevillea sp. [Section 15N] is low and spreading and covered, in profusion with red toothbrush-like flowers.
Eremophila christophori [Section 15R] is a small erect shrub decorated with lilac coloured tubular flowers Stenocarpus angustifolius [Section15S] is a fairly dense shrub with lance shaped foliage and terminal heads of cream lacey flowers. At the bottom of the stairs, Hypocalymma angustifolium var. longifolium [Section 15R] is small and dainty with small feathery flowers clinging to its upright stems.
Another great section to enjoy … Barbara Daly.