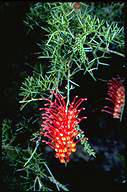 Grevillea treueriana - click for larger image
'Tis Christmas so let's enjoy the many flowers edging the Main Path. Starting at the end of the Café building, Callistemon viminalis [Section 310] spreads its willowy branches, with its deep red bottlebrush-like flowers, over the path. Melaleuca linariifolia var. linariifolia [Section 11] with whitish papery trunks, is crowned with similar but smaller white flowers. Melaleuca 'Hot Pink' [Section 11], so leggy, is bright also with bottle-brush flowers.
The garden of daisies is aglow with yellow flowers which include Chrysocephalum apiculatum [Section 303] with small button size flower heads tipping the green foliage. Opposite, crowded by grasses, the Blue Devil, Eryngium rostratum [Section 8] has metallic blue prickly flower heads on stiff branches of this low growing herb. A bed of colourful kangaroo paws include Anigozanthos flavidus [Section 8] which reveal their 'paw' shaped matt green flowers on long stems. Behind these are cultivars Anigozanthos 'Bush Ranger' [Section 8] with flowers coloured red and Anigozanthos 'Bush Gold' [Section 8] with flowers so yellow.
Grevillea treueriana [Section 30] is quite small with neatly arranged lateral branches bearing pendulous clusters of red flowers. This is one of many grevilleas seen from this path. Banksia blechnifolia [Section 25] is most interesting. It is a dwarf spreading shrub with dusky red flowers and deeply lobbed green and bronze juvenile leaves which appear to emerge from the soil. Banksia caleyi [Section 24] is a small shrub with lovely pendulous maroon flower spikes.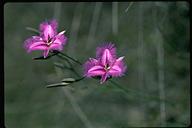 Thysanotus tuberosus - click for larger image
Continue among the trees with white mottled trunks. Cross the road where Boronia muelleri 'Sunset Serenade' [Section 112] bears many pale pink star-like flowers and opposite, the tall saw banksia, Banksia serrata [Section 112] clad with many fresh gold-grey flower spikes. Follow the winding path through the Sydney region gully. Actinotus helianthi 'Federation Stars' [Section 191H] are scattered throughout this section, having velvety silver-grey foliage mixing with the white daisy-like flannel flowers, The tiny Fringed Lily, Thysanotus tuberosus [Section 191H] is an upright plant with purple fringed three-petalled flowers. Scaevola aemula [Section 191H] has purple fan-shaped flowers along its trailing stems. Hibiscus heterophyllus [Section 191S] is yet small, bearing large dark-centred white flowers. This last area is colourful with a crowd of flannel flowers on one side of the path and many Christmas Bells, Blandfordia nobilis [Section 191L], with lovely red and yellow bell shaped flowers pendent from upright stems.
The Rock Garden, always interesting, has Dampiera stricta [Section 15R] with blue flowers on the suckering plant and a field of pink and white daisies, Rhodanthe chlorocephala subsp. rosea [Section 15C] … really stunning! Then the colourful Rhododendron macgregoriae x lochiae [Section 110] with its orange-red bell-like flowers.
Edging the refreshing Rainforest Gully boardwalk, the Dorrigo waratah, Alloxylon pinnatum [Section 147] is a small tree crowned with loose red flowers. Another small tree, the Blueberry Ash, Elaeocarpus reticulatus [Section 148] is well covered with small fringed white bell-shaped flowers. The ramp, too, has flowers to be admired.
And so, Season's Greetings to all … Barbara Daly.