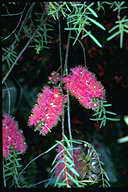 Melaleuca radula - click for larger image
This week's walk is through the amazing S.A. and W.A. Mallee area. There is much in flower so the walk commences in the area at the base of the old nursery. Edging this road the brilliance of the salmon-red Coppercups, Pileanthus limacis [Section 100B] is so conspicuous. Nearby a dwarf Darwinia carnea [Section 100B] is not conspicuous but interesting with green bell-shaped pendent flowers. Melaleuca radula [Section 100B] is a medium upright woody shrub with soft mauve fluffy flower clusters. Calothamnus chrysantherus [Section 100B] has long pine-like foliage and glossy feathery curved tubular flowers in loose clusters encircling the stems. Mirbelia dilatata [Section 100B], although small, bears deep pink pea-shaped flowers along its branches.
Follow the boardwalk in an anti-clockwise direction with flowers on either side. Emu bush, Eremophila christophori [Section 100A] bears its mauve swollen tube flowers towards the tips of the long swaying branches. Blue Grass Lily, Agrostocrinum scabrum [Section 100A] is a small upright tufted plant bright with blue six-petalled flowers on upright stems. Although partly concealed by grasses, Banksia caleyi [Section 100A] is a low dense shrub with deep scarlet downturned flower spikes. Below the eucalyptus branches, Scaevola platyphylla [Section 100A] is semi-prostrate with large purple-blue fan shaped flowers with whitish throat. Eremophylla bignoniiflora x polyclada [Section 100B] is an old angular long-flowering shrub with purplish-white trumpet shaped flowers and dotted throat. Beside is a patch of Lechenaultia biloba [Section 100B], displaying its powder blue flowers. Behind is a taller Grevillea dielsiana [Section 100B] with fine sharp foliage and clusters of orange-red pendent flower spikes while beside, Alyogyne huegelii [Section 100B] shows off its open white hibiscus flowers. The small shrub, Coopernookia strophiolata [Section 100B] has a dense skirt of deep mauve flowers.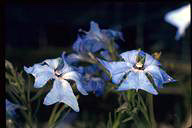 Lechenaultia biloba - click for larger image
At the curve the bright yellow feathery flowers on a dwarf plant is that of Verticordia chrysantha [Section 100B]. Thryptomene micrantha [Section100B] covers its arching branches with tiny white flowers while Melaleuca seriata [Section 100B] with rich pink floppy flower heads, hides behind the tree trunk.
Kangaroo Paws in the central garden include Anigozanthos 'Bush Gem' [Section 100A] with 'paw' flowers coloured a claret shade, a similar shade named Anigozanthos 'Bush Sunset' [Section 100A] and a yellow-red colour named Anigozanthos 'Bush Haze' [Section 100A]. They are all atop long bare stems. Also seen behind these plants is another Banksia caleyi [Section 100A] with almost concealed scarlet flower spikes. A patch of terminal white daisy flowers on short upright greyish stems is that of Argentipallium sp. [Section 100B]. Marianthus paralius [Section 100B] is a ground hugging plant with small succulent leaves brightened with orange tube flowers. At the exit, Lambertia ericifolia [Section 100B] has a magnificent display of vivid orange tubular flowers over the medium open shrub while opposite, Pimelea ferrugiana [Section 100A] is a rounded shrub covered in profusion with terminal pink flower heads.
So many other beauties to admire … Barbara Daly.