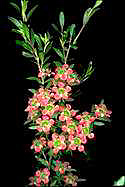 Leptospermum 'Aphrodite' - click for larger image
This walk follows the Main Path where there is a continuous range of flowering plants, starting at the far end of the café building where bottlebrushes, tea- trees, paperbarks and wax flowers can be seen. Teatrees include Leptospermum 'Aphrodite' [Section 10] bearing colourful green centred pink open petalled flowers over an open shrub. Next see the Crimson Bottlebrush, Callistemon citrinus [Section 10], with red flowers, behind which is a taller paperbark, Melaleuca nodosa [Section 10] dense with globular heads of lemon flowers. Wax flower, Chamelaucium uncinatum 'Purple Pride' [Section 12] bears its lovely cerise coloured open waxy flowers.
The section of daisies include Chrysocephalum apiculatum [Section 303] a dense suckering plant with green or silver foliage and clusters of small yellow flower heads . Opposite, Kangaroo Paws, Anigozanthos flavidus [Section 8] reveal their 'paw' shaped matt green flowers terminally on long slender stems. Behind, the flowers are dark red. Pass by the perfumed Kunzea ambigua [Section 9] with frilly globular flowers over the large shrub. Kunzea ambigua x capitata [Section 9] is similar with soft pink flower heads. Banksia blechnifolia [Section 30, 25, 26] is a dwarf spreading shrub with dusky red flower spikes and deeply lobed leaves which appear to emerge from the soil. Persoonia chamaepitys [Section 27] is a dense ground cover with fine green foliage well covered with tiny yellow flowers.
Crossing the road there are many grevilleas as well as Banksia caleyi [Section 24] low and dense with pendular maroon coloured flower spikes. Grevillea johnsonii x wilsonii [Section 24] beside the seat, is a tall shrub ornamented with lovely red waxy curvaceous flower spikes.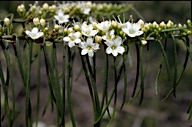 Myoporum floribundum - click for larger image
Continuing to the Sydney region gully flora, Actinotus helianthi 'Federation Stars', [Section 191H] profuse throughout this section, have velvety silvery–grey leaves and white daisy-like flannel flowers. The smaller flannel flower, Actinotus forsythii [Section 191H] has white flowers and large pink centres. Scaevola aemula [Section 191H] has purple fan-shaped flowers along its trailing prostrate stems. Christmas Bell, Blandfordia nobilis [section 191P] is a tufted plant with long fine leaves and spectacular bell-like flower sprays coloured red and yellow. Jacksonia scoparia [Section 191G] is upright and yellow with pea-shaped flowers. Boronia microphylla [Section 191M] is upright and pretty with pale pink four-petalled flowers.
Continue through the Eucalyptus Lawn and down to the Rock Garden, rich with colour. Myoporum floribundum [Section 15R] is yet small and well covered with tiny white flowers. Dampiera stricta [Section 191R] is a suckering plant with attractive blue flowers. In front the large clusters of red flowers atop long upright stems is that of the Gymea Lily, Doryanthes excelsa [Section 191C].
Stroll through the fresh green Rainforest. See the Dorrigo Waratah, Alloxylon pinnatum [Section 144] a small tree tipped with waratah-like loose red flower heads. The ramp, too, has an array of flowers to be admired.
Such colour, such splendour … Barbara Daly.