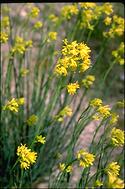 Glischrocaryon behrii - click for larger image
After marvelling at the flowers edging Banks Walk come to admire those in the Rock Garden. In a clockwise direction edging the stairs, Hibbertia pedunculata [Section 15D] is a groundcover bright with yellow open flowers against its dark green foliage. Completely carpeting the rocks, Grevillea 'Poorinda Royal Mantle' [Section 15D] presents its tooth-brush like dark red flowers mixing with the lobed leaves. Kangaroo Paw, Anigozanthos sp. [Section 15D] bears a red and lime 'paw' flower tipping a tall bare stem. The small mound plants Brachyscome multifida [Section 15D and elsewhere] has soft foliage dotted with small mauve daisy-like flowers. Throughout this area the upright spikes of yellow flowers are those of Bulbine sp. [Section 15D]. Close to the stream Ptilotus obovatus 'Cobtus' [Section 15D] has green-grey foliage and grey, tinted pink woolly flower balls which mix with the rich blue flowers of Lechenaultia biloba [Section 15D]. At the corner Banksia blechnifolia [Section 15D] has below ground branches from which the much divided leaves and the dusky red flower spikes stand erect.
Southern sea-heath, Frankenia pauciflora [Section 15G] is a spreading prostrate plant apparent with small pink flowers. Opposite, ACT's Floral Emblem, the Royal Bluebell, Wahlenbergia gloriosa [Section 15V] seen close to the rocks, is a suckering plant with lovely large blue flowers. At the base of the stairs Homoranthus bornhardtiensis [Section 15A] is a low spreading flat-topped shrub covering the rocks with flattened pale yellow flower spikes. At the top of the stairs Grevillea 'Masons Hybrid' [Section 15H] is a grand old shrub with long lateral branches containing its lovely red and cream terminal flower clusters favoured by the large nectar seeking Red Wattle Birds.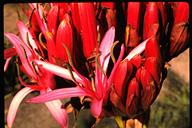 Doryanthes excelsa - click for larger image
From this top road, Anigozanthos flavidus [Section 15H] has burnt red flowers on long stems while, hugging the ground, Dampiera diversiflora [Section 15H] has rich blue flowers. Scaevola albida var. albida [Section 15H] is a low spreading shrub white with fan-shaped flowers. Beside is Dampiera sylvestris [Section 15H] a suckering plant with blue flowers on upright stems. Below this road dense heads of white daisies are those of Argentipallium blandowskianum [Section 15G]. Nearby Verticordia plumosa [Section 15G] is a small dense shrub covered in profusion with plum coloured flowers.
Before turning at the Grass trees, Xanthorrhoea johnsonii [Section 14] Marianthus paralius is a vine with shiny leaves and eye-catching orange trumpet flowers. On the lower level, opposite the lawns near the seat Glischrocaryon behrii [Section 14] is a small herb in a group tipped with yellow flowers while Halgania anagalloides var. preissiana [Section 14] shows its very blue flowers. A backdrop is that of Chyrsocephalum apiculatum [Section 14] prolific with small heads of yellow flowers. Eremaea pauciflora [Section 15R] is well covered with orange fluffy flowers while, around the corner Brachyscome formosa [Section 15R] is a small suckering plant bearing yellow centred mauve daisy-like flowers. From the bottom of this road the Gymea Lilly, Doryanthes excelsa [Section 15C] with large clusters of red flowers on elongated stems surrounded by long strappy leaves can be seen in front.
So many more floral treasures to enjoy … Barbara Daly.