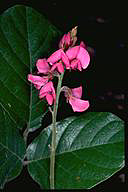 Kennedia retrorsa - click for larger image
These spring flowers, they bloom beside the stairs, they bloom in the pots and about the buildings. They also bloom further afield where this walk will go with a promise there will be so many boronias to see.
Walk along the road on the far side of the Rainforest, the Queensland Frangipani, Hymenosporum flavum [Section 125] is a small tree with loose yellow perfumed flowers mixing with its glossy leaves. Groups of orchids including Dendrobium x delicatum [Section 125] with sprays of white flowers and thick leathery leaves, appear beside this road. Opposite a group of tea-tree cultivars include Leptospermum 'Tickled Pink' [Section 124] a yet small shrub bearing lovely apple-blossom pink flowers. Cross over the Main Path where other orchids including the small pink orchids, Thelychiton kingianus [Section 104] edge the Rainforest.
At the curve the renowned Gymea Lily, Doryanthes excelsa [Section 78] is quite a sight with its large cluster of red flowers atop an extended bare stem surrounded by large strappy leaves. Commersonia fraseri [Section 140] is a tall suckering shrub with clusters of sweet smelling white lacey flowers edging the arching branches. The semi-prostrate Kunzea ambigua [Section 123] is heavy with perfumed white fluffy flowers covering the stems. The top corner has numerous shrubs of Leptospermum rotundifolium 'Lavender Queen' [Section 39], so attractive with the lavender coloured open flowers. Then turn left at the bottle tree, Brachychiton rupestris [Section 42] with large swollen trunk, then right, taking the upper small path where Kennedia retrorsa [Section 46] with purple pea-flowers, spreads over the ground.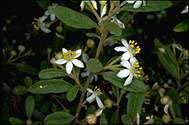 Asterolasia hexapetala - click for larger image
Follow this path to the left to a maze of colour. Yet dwarf, Boronia 'Aussie Rose' [Section 46] is bright with rich pink flowers while Asterolasia hexapetala [Section 46] is of medium size with a scattering of white starlike flowers. Phebalium woombye [Section 46] is small and well covered with clusters of tiny white flowers. A grouping of Boronia muelleri 'Sunset Serenade' [Section 46] is covered with pink star flowers, and behind the taller Boronia 'Lorne Pride' [Section 46] is dense with deep pink flowers. Opposite, Boronia 'Spring White' [Section 46] is profuse with white flowers, while at that corner Boronia pulchella [Section 46] is yet a dwarf shrub with deep pink flowers. Along this side path, Boronia heterophylla [Section 46] is upright and well covered with almost scarlet cup shaped flowers. Close by Boronia microphylla [Section 46] is a dwarf plant with its lovely pink shaded flowers.
Continue uphill where Grevillea johnsonii [Section 56] wraps its branches ablaze with its curvaceous waxy red and lemon flowers around a tree trunk. Opposite, Philotheca spicata [Section 46] bears its tiny pink flowers along the branches of this dwarf shrub. At the top of the path Banksia petiolaris [Section 56] is a groundcover with underground stems from which upright leaves and maroon flower spikes rising from the earth. Opposite is a waratah, Telopea mongaensis x speciosissima [Section 56] showing off its exquisite red flowers.
There is so much to enjoy up here, including the variety of bird calls …
Barbara Daly.