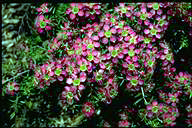 Leptospermum 'Pageant' - click for larger image
Begin this week by admiring the rock orchids Dendrobium delicatum with long white floral sprays opposite the Visitors Centre doors, and Chorizema cordatum bearing long sprays of red and orange pea flowers in the pots. Then view the amazing varieties of colourful plants edging Banks Walk, then take this walk to experience the diversity of our flora; the range of colour is amazing. Starting on the road near the Café where Grevillea barklyana subsp. barklyana [Section 125] has pink toothbrush-like flowers mixing with long lobed leaves, reaches towards the road. Grevillea 'Poorinda Royal Mantle' [Section 124] is a dense ground cover also with toothbrush flowers coloured red. It mixes with the purple pea flowers of Hardenbergia violacea [Section 124]. Grevillea 'White Wings' [Section 124] is a large shrub bearing white feathery flowers.
Rounding the next corner at the magnificent Eucalyptus mannifera [Section 10] with large white branches, Pultenaea pedunculata 'Pyalong Pink' [Section 124] has pinkish pea flowers along its branches which trail along the ground. Leptospermum 'Pageant' [Section 119] is a small mounded plant dazzling with coverage of green centred bright pink open flowers. Behind is Senna sp. [Section 119], a group of upright plants with open yellow flowers. Take the road, as marked, to pass by mint bushes which include Prostanthera latifolia [Section 7] covered with soft mauve flowers and Prostanthera lanceolata [Section 6] covered with white flowers. Later, Westringia glabra [Section 6] has similar mauve flowers.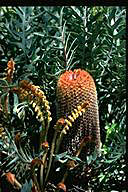 Banksia blechnifolia - click for larger image
Turn at the zebra crossing where Thomasia pauciflora [Section 7] is a dense shrub well covered with small sprays of downturned pink flowers. Opposite, Pultenaea villosa [Section 30] is upright displaying its bright yellow pea-shaped flowers, while, to the right, Bauera rubioides [Section 7] has a dense covering of pink flowers over the thick shrub.
The splendid waratahs including Telopea 'Doug's Hybrid' [Section 30] with many trunks, stand tall with their rich red flower spikes to admire. Nearby Telopea speciosissima [Section 30] has pink-white flowers. Grevillea speciosa [Section 30] is there too, with deep red spider flowers over a small shrub.
Amongst this section of many flowers Banksia blechnifolia [Section 30] is prostrate with underground stems from which upright divided leaves emerge and one tan coloured flower spike can be seen. An area of the blue flowers of the suckering Dampiera purpurea [Section 30] can be seen. Kunzea ambigua [Section 11] is low, dense and covered with soft fluffy white perfumed balls … worth seeing before continuing to the end of the former road where Grevillea floribunda subsp. floribunda [Section 26] reveals its interesting rust coloured pendent flower clusters. Grevillea astericosa [Section 26] of similar size reveals its scarlet coloured spider flowers while Grevillea flexuosa [Section 26] is a dense entanglement of branches covered with yellow candle-like flowers. Isopogon divergens [Section 26] is a low open plant bearing showy pink flower heads. Across the road is a most attractive Boronia muelleri 'Sunset Serenade' [Section 112] with pink, star-like flowers.(This path leads to the colourful Sydney Basin).
These Australian flowers – how wonderful….
Barbara Daly.