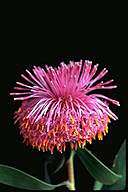 Isopogon cuneatus - click for larger image
These Gardens are a kaleidoscope of colour, which continues along the Main Path. Start at the far end of the Café building with a Geraldton Wax cultivar, Chamelaucium uncinatum 'Purple Pride' [Section 12] with waxy magenta flowers on an open plant. An emu bush, Eremophila nivea [Section 302] bears purple trumpet flowers amid its soft grey foliage and an impressive display of yellow flowers, Bulbine glauca [Section 8] on upright stems is ahead.
The path then reaches a group of waratahs, including Telopea 'Doug's Hybrid [Section 30] decked with spectacular large red flowers. Opposite, a tea-tree, Leptospermum novae-angliae [Section 30] has branches heavy with dark centred white flowers. Homoranthus sp . [Section 30], edging the path, are small spreading flat topped shrubs covered with a haze of yellow, perfumed flowers. Grevillea lavandulacea 'Tanunda' [Section 30], also edging the path, has pink spider flowers amid the dark green foliage. The path now passes by many grevilleas which include Grevillea dielsiana [Section 27] with orange-red pendulous flowers on an upright shrub. Isopogon cuneatus [Section 25] has open mauve floppy-petalled flowers on a small shrub. Grevillea biternata sens. lat. [Section 24] is an open shrub with fragrant white flowers. Grevillea johnsonii x wilsonii [Section 24] has curvaceous shining red flowers which lean across the road while Grevillea flexuosa [Section 26] has perfumed yellow candle-like flowers over a dense entanglement of branches.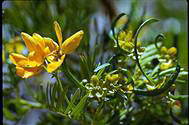 Senna aciphylla - click for larger image
Across the road Boronia muelleri 'Sunset Serenade' [Section 112] is a rounded shrub, pink with star-like flowers while Telopea 'Braidwood Brilliant' [Section 112] stands tall with its stunning red flower heads. Then, passing through the Sydney Basin, other boronias are seen, including Boronia pinnata [Section 191h] well covered with pink flowers. Opposite , Senna aciphylla [Section 191s] has bright yellow open flowers over small plant. At the look-out mint bushes include Prostanthera rugosa [Section 191s] a medium hairy shrub with purple flowers. At the cross-roads, Black-eyed Susan, Tetratheca thymifolia [Section 191j] is low, spreading and profuse with downturned dark centred pink flowers. Flannel flowers, Actinotus helianthi 'Federation Stars' [Section 191u] with velvety greyish foliage are just bursting into their soft white flowers.
Cross the Eucalypt Lawn down to some hakeas which include Hakea minyma [Section 20] a tall shrub clad with cream cylindrical flower spikes. The Rock Garden has an abundance of flowers including Dampiera diversifolia [Section 15R] a dense ground cover clad with small deep blue flowers and the Gymea Lily, Doryanthes excelsa [Section 15C] which has large red flower spikes atop long upright stems.
At the entrance to the Rainforest, rock orchids include the soft pink flowers of Thelychiton kingianus [Section 104]. Later, tree orchids include Thelychiton falcorostrus [Sections 145, 65] with sprays of white flowers along tree trunks and the lovely orange blossom orchid, Sarcochilus falcatus [Sections 147, 148] with smaller white flowers. (The display of orchids can be seen opposite the Information Centre door). Flowers never stop. They then continue down the ramp…
These gardens, such a place to be …
Barbara Daly.