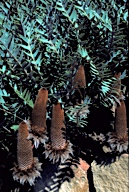 Banksia blechnifolia - click for larger image
Today's walk begins opposite the Banks Building following the main path. On the right is Chamelaucium uncinatum 'Purple Pride' [Section 12]. It is a medium sized shrub with narrow leaves, and bright crimson pink tea tree flowers, which are quite large. On the left is Thryptomene saxicola [Section 11]. This small open shrub has tiny leaves, an abundance of white flowers clustered along the stem. Next door is xAstackea 'Winter Pink ' [Section 11]. A spindly plant dotted with small pink flowers, micro leaves. Eremophila nivea [Section 8] has mauve trumpet-like flowers, light grey/green soft leaves on a medium sized bush.
Section 30 has lots in flower. On the right is Lepidosperma effusum [Section 30], a spreading sword-sedge. This plant has long strappy leaves and yellow flowers. On the right is Craspedia variabilis [Section 30]. A small plant displaying two large yellow flower heads on long stems of about 30cms; leaves are at the base of the plant. On the left is Telopea mongaensis [Section 30], the local Braidwood waratah. It is a large shrub with crimson pink flowers and leathery leaves. Banksia baueri [Section 30] is a small banksia with serrated leaves; large flowers heads have finished but note the textural furriness of the head. Philotheca 'J. Semmens ' (labelled Eriostemon 'J. Semmens' ) [Section 30] is a medium bush; double white flowers with orange centres and pink buds, small perfumed leaves.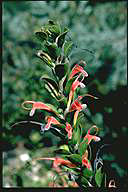 Adenanthos obovatus - click for larger image
On the right, Homoranthus sp. [Section 30] is a tight low spreading shrub; clusters of compacted mid yellow flowers; small leaves radiating around the flowers. Behind is Banksia blechnifolia [Section 30]. An unusual looking prostrate; the rusty brown flower spikes are protruding from the ground with long divided leaves. Beside the banksia is Adenanthos obovatus [Section 30], a small plant displaying red spider flowers with leaves arranged flat along the stems. Further on, to the left is Grevillea 'Tanunda' [Section 30], a small shrub exhibiting a mass of crimson spider flowers and grey/green foliage.
Cross the road and continuing along the main path, on the right is Grevillea paniculata [Section 26]. It is a large plant with spiky leaves; cream/white flowers which are heavily perfumed. Grevillea wilkinsonii [Section 24] is a very large shrub, loads of pink toothbrush flowers and toothed mid green leaves. Cross the road, Boronia muelleri 'Sunset Serenade' [Section 112] is a neat medium bush, an absolute delight, masses of pink/white flowers and small fine leaves. Phebalium squamulosum [Section 112] is a small shrub with yellow bunches of flowers, pronounced stamens, small elongated bright green leaves.
More to see in the Sydney Region Gully.
Lesley Page