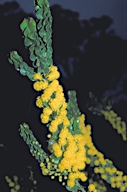 Acacia acinacea - click for larger image
The walk this week is in the Western Mallee Sections [100a, 100b, 100c]. The plants here are from South Australia and Western Australia. The term "mallee'' refers to Eucalyptus species which are multi-stemmed. The walk starts on the bitumen road going up the hill above the old nursery [Section 100b].
There are several plants of Needle Bush Acacia Acacia rigens, covered in golden balls. In the middle of these plantings is an Emu Bush about 1.5 metres tall, Eremophila pachyphylla, with pale mauve flowers. The low growing Correa pulchella (variant 2) has red flowers. Farther back in the bed is the straggly leafless Allocasuarina lehmaniana subsp. ecarinata with crimson female flowers. The low growing Gold Dust Wattle Acacia acinacea has stems flattened into wings and orange-yellow flowers. Thomasia sp., 90 cm tall, has dusky pink flowers. Eremophila youngii has salmon pink flowers. On the corner at the top of the bed are low growing Cryptandra aridicola with white starry flowers, and the broom-like Fringed Heath Myrtle Micromyrtus ciliata with tiny white flowers.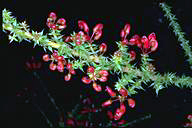 Grevillea asteriscosa - click for larger image
Turn the corner and take the second board walk just before the bridge. [Section 100c] is on the left, and [Section 100a] on the right. The tiny delicate Pimelea brachyphylla (left) has pink buds and white flowers in tight heads. Calytrix leschenaultii (right) has white star-shaped flowers. Grevillea asteriscosa (left) has crimson flowers. Desert Baeckea Baeckea crassifolia (right) is about 15 cm tall and has pink flowers. There are several small plants of Red Lechenaultia Lechenaultia formosa pink flowered form, (right) with flowers that are almost red. The sprawling Hibbertia vaginata (left) has large bright yellow flowers. Behind it is Adenanthos detmoldii with pale green and orange flowers. The sprawling Dampiera dysantha (right) has brilliant purple flowers. Boronia crenulata subsp. crenulata (left) is covered in bright pink flowers.
The path turns back on itself. [Section 100a] is on the right and [Section 100b] on the left. Straggly Thryptomene denticulata (left) has massed pink flowers. It is under the only Eucalyptus in full flower, Eucalyptus flocktoniae subsp. hebes, with yellow flowers. A Geraldton Wax cultivar, Chamelaucium uncinatum 'Eric John' (right) is a dense tall shrub with small pink flowers. Dwarf Nealie Acacia wilhelmiana, (left) a dense wide shrub, is just coming into flower, with dull yellow balls in bud, and golden yellow balls when the flowers open. On the left at the end of the board walk are two species of pea flowers. Gastrolobium propinquum has several stems leaning towards the light, and yellow and red flowers. The straggly Gastrolobium linearifolium has larger flowers. The upper petal (standard) is golden yellow on the inside and red on the back.
Betty Wood