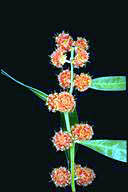 Acacia leprosa 'Scarlet Blaze' - click for larger image
Tis spring …plants are flowering … birds are singing … the sun shines … so follow the Main Path and marvel at the gorgeous flowers. Starting at the end of the Café building stopping at the wattle, Acacia leprosa 'Scarlet Blaze' [Section 131], with vermillion coloured flower balls on long arching branches leaning towards the path. Chamelaucium undulatum 'Purple Pride' [Section 12], a Geraldton Wax cultivar, leaning towards the path, has deep purple flowers.
Philotheca 'J. Semmens' [Section 30] is still covered with pink buds but with a scattering of pale pink multi-petalled flowers. Notice Banksia baueri [Section 30] close by, still with some fresh large greyish woolly flower spikes. A prostrate form of Cootamundra wattle, Acacia baileyana [Section 30] is yellow with soft flower balls mixing with the blue-green foliage. Grevillea alpina (Goldfields Form) [Section 30] has single pale orange flowers and, like most grevilleas, is of great attraction to honeyeaters who enjoy the nectar. Isopogon cuneatus [Section 25] has lovely floppy petalled flowers on a small upright shrub.
Across the road, Adenanthos obovatus [Section 26] is a small plant with red tubular flowers with long red style, hugging the stems. Grevilleas along this path include Grevillea 'Poorinda Adorning' [Section 24] prostrate with orange-red flowers, Grevillea haplantha [Section 26] beside the seat, covered in profusion with red flowers over a dwarf shrub and Grevillea flexuosa [Section 26] a dense shrub bright with cigar-like yellow flowers.
Across the road, Boronia muelleri 'Sunset Serenade' [Section 112] is neat and rounded with pale pink, almost white flowers and many deep pink buds. Asterolasia phebalioides [Section 112] has bright yellow flowers over a dwarf plant and Phebalium glandulosum subsp. glandulosum [Section 112] also has yellow flowers in profusion.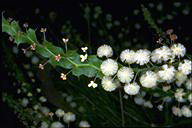 Acacia alata - click for larger image
Flowers seen from the curvaceous path through the Sydney Flora Region include Boronia pinnata [Section 191H] an open shrub with deep pink star flowers. Grevillea irasa subsp. didymochiton [Section 191S] has red pendular flower spikes over the medium size shrub.
The False Sarsaparilla, Hardenbergia violacea [Section 191S] with purple pea flowers is seen climbing over a few shrubs … but wait! Helichrysum elatum [Section 191H] is a small upright herb with woolly foliage and tipped with white daisy heads . Epacris reclinata [Section 191M] is small and vivid with clusters of pink tubular flowers, and Acacia gordonii [Section 191E] is a dwarf shrub most colourful with its golden flower balls. Acacia leucoclada subsp. argentifolia [Section 191L] is a fine tree with silvery divided foliage and strands of yellow flower balls. Hardenbergia violacea [Section 191L] here envelopes anything with its purple pea flowers … so colourful! Opposite, Hibbertia saligna [Section 191L] is small with bright yellow open flowers.
Then, across the Eucalyptus Lawn to discover other wattles, and down to view Hakea purpurea [Section 20] small and upright dazzling with crimson flowers. The Rock Garden needs time and space to roam about, but Guichenotia macrantha [Section 4] is pretty with down turned pink cup shaped flowers and Acacia alata [Section 15S] bears white flower balls along its long zig-zag branches. So, through the serene Rainforest and down the ramp with other colourful flowers.
Some walk … such an array of flowers ... Barbara Daly.
(Organised Wattle walks are arranged in early September, enquire at the Visitor Centre)