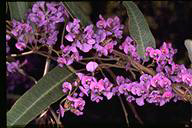 Hardenbergia violaceae - click for larger image
Our fair city is colouring itself with golden wattles. These magnificent gardens too, are decking themselves with gold. Banksias continue to add their shade of gold while grevilleas and other shrubs are beginning to flower.
Zieria formosa [Section 221], beside the stairs to the Visitors Centre, is a neat rounded shrub with loose sprays of tiny mauve flowers mixed with the grey-green foliage. Opposite, the False Sarsaparilla, Hardenbergia violacea [Section 172] is dense and trails over the rock wall with purple pea flowers opening from the many buds. Edging Banks Walk, Banksia 'Birthday Candles' [Section 172], a dwarf shrub, displays its upright cylindrical gold flower spikes above its foliage. Darwinia 'Mondurup Bell' [Section 174] is gracefully displaying its opening red tubular flowers hanging like bells from its open branches.
Following the road on the far side, and edging the Rainforest, Grevillea rosmarinifolia 'Rosy Posy' [Section 182] is a small shrub with clusters of pink flowers dangling like lanterns. There too, is Acacia siculiformis [Section 182] is an upright shrub with soft yellow flower balls arranged with thorny leaves along the branches. The Queensland Silver Wattle, Acacia podalyriifolia [Section 126] is quite spectacular with soft yellow flower balls mixing with the silver-grey foliage of the small tree. Opposite, the apricot coloured spider flowers of the dense shrub are those of Grevillea 'Poorinda Queen' [Section 124]. Below is another Hardenbergia violacea [Section 124] well covered with purple pea flowers.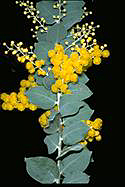 Acacia podalyriifolia - click for larger image
Following the road edging the Rainforest , Grevillea 'White Wings' [Section 124] is a dense shrub with fine divided leaves and loose sprays of white feathery flowers. Crowded together, Grevillea 'Ivanhoe' [Section 124] has red toothbrush-like flowers mixed with long deeply toothed foliage. Edging the Brittlegum Lawn, Banksia spinulosa var. spinulosa [Section 109] is radiant with its gold flower spikes ribbed with red styles. Edging the Rainforest, Acronychia littoralis [Section 104] is a large glossy leafed shrub profuse with sprays of yellow-green star flowers. In the triangular garden are a group of Pimelea brachyphylla [Section 17] dwarf shrubs clad with deep pink buds and small white flowers in clusters. Edging the road, Baeckea crassifolia [Section 17] is a little taller with stems clad with tiny pink centred white flowers. Around the corner the larger shrub, Chamelaucium ' Cascade Brook' [Section 17] is spectacular with mottled pink open waxy flowers. Opposite a hedge of Crowea 'Festival' [Section 123] continues to be well covered with rich pink star flowers.
Take the stairs to the right to view banksias including Banksia oblongifolia [Section 36] with lemon flower spikes over a low open shrub and Banksia ericifolia [Section 36] with rich gold flower spikes over a tall large shrub. Descend now to a section of wattles in flower or just about to. They include the Snowy River Wattle, Acacia boormanii [Section 1] of medium size, with soft narrow foliage and fluffy yellow flower balls, Acacia pravissima [Section 2] an upright shrub with short sharp leaves and yellow flower balls along pendulous branches … and so many other wattles just bursting into flower.
(There are organized Wattle walks during Wattle Week in early September. Enquire at the Visitors Centre).
Great walking … great flowers …
Barbara Daly.