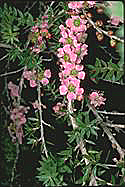 Leptospermum squarrosum - click for larger image
To view the Mallee area of Western NSW and SA the walk starts at the base of the old nursery. T'is quite fresh these cool and sunny days but oh so pleasant. Leptospermum squarrosum [Section 44] continues to crowd its lovely pink peach blossom flowers along the extended branches. A wattle, Acacia gordonii [Section 44] is a small spreading shrub with dark foliage dense along the branches and bright yellow flower balls maturing among the many buds.
Walking up the road, Acacia rigens [Section 100b] is a spreading shrub with fine long needle foliage, golden flower balls, and many buds edging the branches.
Entering the boardwalk, walking in an anticlockwise direction, Gastrolobium propinquum [Section 100b] has very small red-centred-yellow pea flowers at the ends of the low branches. Chamelaucium ciliatum [Section 100a] is a slim upright small shrub covered with tiny pink-centred-white flowers. Close by Chamelaucium uncinatum 'Eric John' [Section 100a], a Geraldton Wax cultivar, has clusters of red wax flowers over a many-branched shrub. Beside is Dampiera dysantha [Section 100a] a semi-prostrate plant with long branches beautified with deep blue flowers. Opposite, a taller dense shrub, Grevillea dielsiana [Section 100b] reveals its pendent orange-red flower clusters from branches with short divided foliage. Thryptomene denticulata [Section 100b] is a low spreading shrub with arching branches covered in profusion with pinkish flowers. Then compare Eucalyptus transcontinentalis [Section 100b] a small many branched tree with grey-green foliage and dense clusters of lemon fluffy flowers with Eucalyptus flocktoniae subsp. hebe [Section 100b] a small upright tree with green foliage and also with dense clusters of deeper lemon flowers. Almost opposite Hypocalymma sp. [Section 100a] is attractive with a covering of small feathery pink flowers.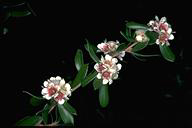 Agonis marginata - click for larger image
From the curve, an emu bush, Eremophila subfloccosa subsp. subfloccosa [Section 100c] is a small spreading shrub with branches dense with soft hairy leaves and few lime coloured tubular flowers. Opposite, the bright yellow flowers are those of Hibbertia vaginata [Section 100a]. Eremophila oppositifolia [Section 100a] is many branched and well covered with fine greyish foliage, cream calyces resembling five-petalled flowers and also numerous pink tubular flowers.
Towards the end of the boardwalk Agonis marginata [Section 100c] is a many branched medium shrub with branches tipped with small clusters of tiny dark-centred white flowers. Close by dwarf shrubs include Baeckea crassifolia [Section 100c] with pink tinted flowers over the compact plant, Prostanthera incurvata [Section 100c] with pink tubular flowers amid the open branches and Pimelea brachyphylla [Section 100c] another dwarf plant laden with pink buds and pinkish flowers. Then Nematolepis phebalioides [Section 100c], erect and small with vivid red tubular flowers with pendant yellow-green tips …so conspicuous.
The grand old Banksia ericifolia [Section 103] is laden with rich gold flower spikes at the end of the boardwalk.
Definitely worth a visit …
Barbara Daly.