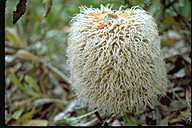 Banksia baueri - click for larger image
This is a pleasant walk along the Main Path which passes through the Sydney Basin Region, the Rock Garden, the Rainforest and other interesting areas. So, start at the end of the Café building, where Acacia alata [Section 240] with a spreading habit is massed with fluffy cream flower balls along its flat angular stems. Chamelaucium undulatum 'Purple Pride' [Section 12] a Geraldton Wax cultivar, bears its deep purple flowers and Thryptomene denticulata [Section 11] is a dwarf plant with its spreading branches covered with tiny pink flowers.
Banksia baueri [Section 30] arranges its large woolly grey and orange flower spikes about the base of the plant with numerous aged flower spikes. Banksia ericifolia var. ericifolia [Section 30] is a large spreading shrub bright with rich gold flower spikes. Adenanthos obovatus [Section 30], edging the path, is a small plant bearing red tubular flowers along the stems. Notice the long curved styles from the ends of the flowers. Another banksia, with a difference, is Banksia blechnifolia [Section 25] a prostrate plant with stiff upright lobed leaves. The still small burnt-orange flower spikes are seen emerging from light coloured woolly stems creeping along the ground. Isopogon cuneatus [Section 24] has open mauve floppy-petalled flowers on an upright shrub.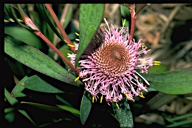 Isopogon cuneatus - click for larger image
The many mottled white and grey tree trunks in front are those of Eucalyptus mannifera and Eucalyptus rossii . Grevillea irasa subsp. didymochiton [Section 26] has many red spider-flowers dangling over the large dense shrub. Grevillea flexuosa [Section 26] is a spreading shrub with much divided leaves and yellow candle-like flower spikes.
Across the road Correa pulchella [Section 112] is a dwarf plant with vivid orange tube-shaped flowers. Its dense winter foliage has a red toning. Behind, Phebaleum stenophyllum [Section 112] is a small shrub bright with yellow fluffy flowers.
Flowers seen from the winding path through the Sydney Flora Region include Actinotus forsythia [Section 191H] with low vivid green foliage and long stems of small pink-centred white flannel flowers and Epacris impressa [Section 191P] with small tubular pink flowers clinging to upright stems. The large shrub, Banksia spinulosa var. spinulosa [Section 191L] is laden with golden flower spikes its nectar a delicacy for small honeyeaters. Behind the round seats, Crowea saligna [Section 191U] continues to cover its small shrub with lovely pink star-flowers. Hibbertia saligna [Section 191L] has bright yellow open flowers on a small upright shrub.
Cross the Eucalypt Lawn and down to the Rock Garden passing Hakea recurva [Section 20] with an abundance of perfumed dusky cream flower spikes over a large shrub and Hakea corymbosa [Section 20] with lime green flowers mixing with small sharp foliage, shaping together like a cauliflower. The Rock Garden with an abundance of interesting plants includes Pimelea brachyphylla [Section 15S] a dwarf shrub covered with tiny cream flower heads and Guichenotia ledifolia [Section 4] with pale pink downturned flowers amid the grey-green foliage
A walk through the fresh and relaxing Rainforest and so down the ramp with its share of colour.
A winter wonderland …
Barbara Daly.