Acacia podalyriifolia [Section 126] is a beautiful tree with yellow flowers. What is most interesting is its leaves. They feel like velvet to touch. Banksia spinulosa [Section 126] is a large shrub with serrated leaves, elongated in a whorl down the stem. It is a mass of yellow flower heads. Crimson rosellas can be heard in the background. Grevillea 'Poorinda Diadem' [Section 126] is a large bush with yellow spider flowers. Honeyeaters just love them.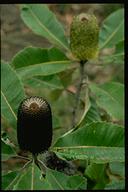 Banksia robur - click for larger image
Upon arriving at the T section of the road Eucalyptus mannifera [Section 10] is one of the original brittle gums of the gardens, so graceful and serene. To the left is Thryptomene 'Pink Lace ' [Section 10] a low spreading shrub with tiny pink flowers and fern-like leaves. To the left in Section 119 note all the correas in particular Correa pulchella 'Pink Mist' [Section 119]. It is a medium sized bush, heart shaped leaves, mid pink bells to complement the green of the leaves. Next door is a large shrub Westringia longifolia [Section 119] which has delicate mauve flowers with fine green leaves. Grevillea asplenifolia [Section 120] sprawls everywhere. This groundcover has pink toothbrush flowers opening, and long toothed leathery leaves.
Turn right here. Just nearby is Prostanthera latifolia [Section 7], a small mint bush with purple flowers. Eucalyptus elliptica [Section 30] is an enormous, majestic brittle gum which has sensuous branches with long pendulous leaves. Banksia aemula [Section 6] flower heads are coming to an end but still beautiful. The small tree has very textural, corky bark on the stem, serrated leathery long leaves, sculptural shapes – lots of volume. Opposite is Banksia robur [Section 25]. Again the flower heads have finished but note the very large leaves with horizontal veins. The flower heads sit in the middle of the leaf arrangement upright, dominant. To the left and behind is Isopogon cuneatus [Section 25] an endangered small shrub. It has a lavender flower head like a daisy with broad thick leaves.
Cross the main path and follow the little dirt track. To the right is Banksia spinulosa var. collina [Section 27], a medium sized shrub with long narrow leaves and yellow flower heads. New holland honeyeaters and wattle birds are happily grazing. The Banksia serrata [Section 27], a small tree with very textural, corky bark, stem twisted and gnarled upright flower heads can't be passed over. Grevillea dimorpha [Section 27] is a small shrub with rusty red flowers along the stem and very long leaves. Banksia integrifolia subsp. compar [Section 27] is in flower with yellow flower heads. Leaves are arranged in a spiral around the head; a magnificent specimen. Opposite is Grevillea 'Sid Reynolds' [Section 25], a small spreading tree which has pink and yellow flowers along the stem.
Enjoy the birds… Lesley Page