The days are cool and fresh because of the heavenly rain. Just right for a walk along the Main Path. So, commencing at the far end of the Café building , Leptospermum squarrosum [Section 12] continues to cover the old wood with open pink flowers, an emu bush, Eremophila nivea [Section 302] is a picture with a scattering of mauve bugle flowers over the soft grey foliage and Xerochrysum bracteata [Section 303], with yellow straw daisies, open when the sun shines.
Possum Banksia, Banksia baueri [Section 30,27] is laden with large soft woolly greyish flower spikes at the base of the small upright shrub while the Heath-leaved Banksia, Banksia ericifolia var ericifolia [Section 30] is a large shrub brilliant with upright golden flower spikes. Oak-leaf Dryandra, Dryandra quercifolia [Section 30] is yet a small dense shrub bearing many yellow frilly flat rounded flowers heads . Banksia 'Birthday Candles' [Section 30] is dwarf and continues to spread with its collection of candle-like golden flower spikes.
Move on into a selection of grevilleas set among the stately mottled grey tree trunks of Eucalyptus mannifera and Eucalyptus rossii . Grevillea humifusa [Section 24] lies prostrate with short red toothbrush-like flowers on the trailing branches. Grevillea paniculata [Section 26] is of medium size, attractive, with fragrant white lacey flowers amid the short sharp foliage. Grevillea flexuosa [Section 26] is a spreading shrub with much divided leaves and illuminated with yellow candle-like flower spikes.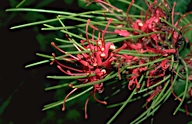 Hakea purpurea - click for larger image
Across the road Correa pulchella [Section 112] is a dwarf compact plant with vivid orange tube-shaped flowers. Then, entering the Sydney Floral Region, Flannel Flowers, Actinotus helianthi ' Federation Stars' [Section 191H] have large white daisy-like flowers above the dense velvety grey-green foliage. In the gully opposite, Blackthorn, Bursaria spinosa var. spinosa [Section 191S] is a tall slim shrub crowned with loose clusters of white flowers. Opposite the look-out, the small tubular red or pink flowers of Epacris impressa [Section 191P] rise above the surrounding foliage. The many large banksias include Banksia spinulosa [Section 191E] prolific with golden flower spikes – and red wattle birds demanding their share of nectar. See the dwarf rounded Sprengelia monticola [Section 191U] clad with small white star flowers and Crowea saligna [Section 191U] with an abundance of deep pink star flowers.
Cross the Eucalypt Lawn to an area of wattles including Acacia flexuosa [Section 18] a low spreading shrub now with yellow fluffy flower balls. Across the road, Hakea obtusa [Section 20] displays its pink and cream flowers behind the green foliage of this medium size tree and Hakea purpurea [Section 20] covers its slight upright shrub with crimson flowers.
The Rock Garden has an abundance of flowers including Guichenotia ledifolia [Section 4]with pale pink downturned flowers and Scaevola brookeana [Section 15S] with powder-blue flowers on the small shrub.
The Rainforeat Gully is cool and relaxing with so much fresh green foliage. Then down the ramp where a Bamboo Grass, Austrostipa ramosissima [Section 210] is upright with many stems with fine feathery flower head amid fewer blades of grass.
Always another flower to admire … Barbara Daly.