This pleasant wintery walk starts at the old nursery site and continues up to view the flowers of the Mallee area of Western NSW and SA. Walking to this area the raindrops from the welcome showers glisten on all the plants…such a joy.
Leptospermum squarrosum [Section 44] crowds its lovely pink peach blossom flowers along the arching branches. Walking up beside the buildings Acacia rigens [Section 100] is a spreading shrub with fine foliage and golden flower balls mixing with many buds edging the branches.
Grevillea lanigera [Section 34] is a dense ground cover well covered with pink and cream flowers. Brachyscome multifida 'Break O'Day' [Section 34] is another ground cover with soft foliage and small mauve daisies. Grevillea thelemanniana subsp. pinaster [Section 100] bears many pink flowers in pendent clusters along the spreading branches.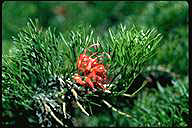 Grevillea maxwellii - click for larger image
Entering the boardwalk opposite the large Melaleuca decora [Section 103] with the cream papery-barked trunk , Prostanthera incurvata [Section 100A] has soft pink flowers over this small shrub and Hemiandra pungens [Section 100A] lies prostrate bearing pink bugle flowers. Opposite, Gastrolobium propinquum [Section 100B] terminates its upright branches with very small red centred yellow pea flowers. Chamelaucium ciliatum [Section 100A] has fine foliage bright with tiny white open flowers over the dwarf shrub while close by, Chamelaucium uncinatum 'Eric John' [Section 11A] is dense of medium size with terminal clusters of pale pink open flowers. Close by Hypocalymma sp. [Section 100A] is vivid with pink feathery flowers. Opposite, Eremophila bignoniiflora x polyclada [Section 100B] is spreading with large bugle shaped flowers coloured white with a tint of mauve and with dark spotted throat. Beside is a patch of Lechenaultia biloba [Section 100B] with blue flowers on upright stems while behind a medium shrub, Grevillea dielsiana . [Section 100B] hangs its lovely orange-red flower clusters from branches with short fine divided foliage. Edging the boardwalk, Brachyscome tatei [Section 100B] is a compact ground hugging plant with large yellow centred white daisies rising above the green foliage. Beside is Dampiera tenuicaulis [Section 100B] also small with sprays of deep blue flowers.
At the curve emu bush, Eremophila oldfieldii subsp. angustifolia [Section 100C] is a slim upright shrub with few reddish tubular flowers amid many green calyces. Eucalyptus ficifolia [Section 100C] is a small tree attractive with large ovoid fruits. Grevillea maxwellii [Section 100C] is dense spreading and semi-prostrate with red flower clusters edging the foliage.Past the curve Banksia epica [Section 100A] is small and spreading with light ochre flower spikes with dark styles Beaufortia decussata [Section 100A] in the centre has deep red bottlebrush-like flowers along the upright stems . Baeckea crassifolia [Section 100] is a real gem with a dense covering of tiny pink flowers over the dwarf shrub. Opposite the exit is the large Banksia ericifolia [Section 103] laden with brilliant gold flower spikes.
Really is another place to enjoy … Barbara Daly.