Marvel at the colourful flowers including the lovely Eucalyptus 'Summer Beauty' [Section 174] still with large pink flower clusters capping the small tree along Banks Walk, then venture up to the Rock Garden where many small floral beauties are there to be admired.
Walking in a clockwise direction from the base of the picturesque waterfall where the vivid blue of Dampiera linearis [Section 15D] appears above the rocks. Up the stairs where Banksia integrifolia var . integrifolia [Section 15C], a prostrate plant with cream cylindrical flower spikes amid the silver backed leaves, invades the footpath. Opposite the spreading upright shrub , Correa 'Ivory Bells' [Section 15D] has an abundance of ivory coloured tubular flowers amid the silver backed foliage. Beside this shrub Banksia 'Honeypots' [Section 15D] is bearing many honey-coloured flower spikes arranged on top of this dwarf spreading shrub. In front the tiny ground hugging Lechenaultia formosa [Section 15D] is colourful with scarlet flowers. Ptilotus obovatus 'Cobtus' [Section 15D] is small and spreading with greyish foliage with pink-tinted-grey ovoid flower head on upright stems.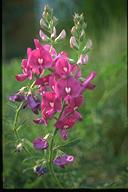 Swainsona galegifolia - click for larger image
In this section Eremophila maculata var. brevifolia [Section 15F] is a small shrub dotted with bright magenta coloured bugle-shaped flowers. Around the corner an emu bush Eremophila warnesii [Section 15F] is an open dwarf plant with short thick branches crowded with short hairy leaves and bright with deep purple bugle-flowers. The tall dense shrub covered with yellow flowers is Rulingia cuneata [Section 15F] The bank opposite is clad with the ground-cover, Grevillea lanigera [Section 15W], covered with deep pink spider flowers. Above, Alyogyne huegelii ' Westcoast Gem' [Section 15H] has an array of purple hibiscus-like flowers.
Ascend the stairs edged with Plectranthus sp. [Section 15A], a suckering herb with velvety leaves and long spikes of tiny bluish flowers. Opposite Grevillea 'Masons Hybrid' [Section 15H] spreads its large trunks around the seat, presenting its terminal reddish flower clusters above – its better know by its trade name of Grevillea 'Ned Kelly'.
From this top road, the suckering Dampiera sylvestris [Section 15H] has blue flowers on upright stems. Olearia astroloba [Section 15H] is a many branched upright shrub displaying large mauve daisy flowers. Pimelea avonensis [Section 15H] is a dwarf shrub with terminal heads of tiny white flowers.
Continue to the end of this garden where Hakea laurina [Section 20] is a tall shrub laden with deep red pincushion flowers. Returning, Acacia alata [Section 15N] is a dense shrub with odd zig-zag like branches dotted with white flower-balls. Small plants edging this section include Baeckea crassifolia [Section 15R] with pink flowers and Scaevola calliptera [Section 15R], a trailing plant with deep purple flowers along the stems, with overhanging branches of Swainsona galegifolia [Section 15R] and dusky red pea-shaped flowers. The brilliant yellow straw flowers of Xerochrysum bracteatum are self-seeded throughout this area … so bright, so attractive.
So many more 'lovelies' …
Barbara Daly.