Come, enjoy the small and not so small floral beauties in the Rock Garden starting in front of the picturesque waterfall, walking in a clockwise direction.
Half way up the stairs Dampiera salahae [Section 15D] is a small erect herb presenting blue flowers. On the other side of the large Correa alba var . alba [Section 15D] with white star flowers, Banksia 'Honeypots' [Section 15D] is a dwarf shrub with upright cylindrical honey coloured flower spikes. Endeavouring to take over the path, Banksia integrifolia var. integrifolia [Section 15C] is a spreading prostrate plant with silver backed leaves and upright lemon flower spikes. Then a patch of colour includes Lechenaultia formosa [Section 15D] prostrate in small rings of orange flowers, Halgania cyanea [Section 15D], small and upright with blue flowers, and Lechenaultic biloba [Section 15D] of similar height with powder blue flowers.
Cross over to where Eucalyptus lacrimana [Section 15M] curls its erect bare trunk. At its base daisies include Brachyscome rigidula [Section 15M], a dense ground-cover with mauve flowers on short upright stems and Brachyscome aculeata [Section 15M] with larger pale pink flowers on long spreading stems.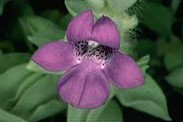 Eremophila warnesii - click for larger image
Opposite, an emu-bush, Eremophila warnesii [Section 15F] is an odd looking plant with short thick branches crowded with hairy leaves and deep purple bugle shaped flowers. On the opposite side of this garden Isotoma sp. [Section 15F] is semi-prostrate, blue with lovely orderly petalled blue flowers. View the slope clad with the pink and cream spider flowers of ground cover, Grevillea lanigera [Section 15W]. Can't miss the she-oak, Casuarina rigida var. rigida [Section 15A] well covered with fine ochre coloured 'male' flowers. Walking up the stairs Grevillea 'Mason's Hybrid' [Section 15H] with long arching branches over the seat, has large terminal reddish flower clusters. From the upper road Solanum sturtianum [Section 15H] has deep purple open flowers mixing with the grey-green leaves. Scaevola albida var. albida [Section 15H] has a profusion of white fan-shaped flowers over the prostrate plant. Beside is the suckering Dampiera sylvestris [Section 15H] with its blue flowers on upright stems. Another emu-bush , Eremophila youngii [Section 15J] is of medium size decorated with deep pink tubular flowers amid the green-grey foliage.
At the far end of the section, Eremophila oldfieldii subsp. angustifolia [Section 15N] has red flowers backed with prominent pale green calyces. At the base Goodenia sp. [Section 14] is a prostrate plant with bright yellow flowers along its trailing stems. Returning on the lower path Grevillea sp. [Section 14] seen beside the seat has bright red toothbrush like flowers on this small semi-prostrate plant.
Flowers from this path include Scaevola calliptera [Section 15R] here, a prostrate plant with deep purple fan flowers and Brachyscome angustifolia var. heterophylla [Section 15P] is a dense groundcover dense with small mauve daisies. Correa 'Cane's Hybrid' [Section 15S] is quite a dense shrub with an abundance of tubular pink and lemon flowers pendent from the branches.
Many more flowers to enjoy …
Barbara Daly.