To see a selection of flowers of the dryer regions of WA and SA come, follow this walk to the upper part of the Gardens. There are flowers to enjoy all the way there.
Following the road edging the old nursery site, Sturt's Desert Rose, Gossypium sturtianum [Section 100], Northern Territory's floral emblem, are open shrubs adorned with rounded leaves and dark centred pinkish-mauve hibiscus-like flowers. Emu Bushes include Eremophila glabra [Section 100] with low spreading branches, grey-green hairy foliage and orange-red tubular flowers, and Eremophila warnesii [Section 100] with few irregular branches smothered with grey-green leaves terminating with deep purple bugle flowers.
Enter the boardwalk in an anticlockwise direction opposite the large Melaleuca decora [Section 103] with its cream papery-barked trunk. Like other small plants , Myoporum turbinatum [Section 100] is small, open and daintily covered with white, with a tint of pink flowers. Cup Gum, Eucalyptus cosmophylla [Section 100] is of medium size with an angular trunk, rather thick leaves and many cream fluffy flowers. Eremophila bignoniiflora x polyclada [Section 100] has quite a spread and beautified with large bugle shaped white flowers tinted mauve with dotted purple throats. Beside, a patch of Lechenaultia biloba [Section 100] with pale blue flowers while, in front, Native Foxglove, Pityrodia teckiana [Section 100] dwarf and dainty, displays its large two-tone mauve bugle flowers . Grevillea dielsiana [Section 100], in the background, displays its pendent red flower clusters.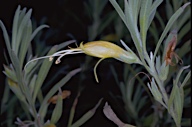 Eremophila glabra - click for larger image
Continuing around the curve, Banksia epica [Section 100] is small with dark foliage and mustard coloured upright cylindrical flower spikes, while another plant has an abundance of small juvenile greenish flower spikes. Eremophila oppositifolia [Section 100] is massed with white buds, now maturing to long slim tubular flowers over an upright shrub. Banksia ornata [Section 100] is quite a dense upright shrub with gold flower spikes dotted with grey stigmas. In the valley, although not in flower, Banksia speciosa [Section 100] standing upright with narrow, deeply indented leaves, is attractive with its upright fresh new ochre coloured foliage. About here, Hypocalymma sp. [Section 100] is a neat small shrub with tiny pink flowers in profusion, covering the stems. The Royal Hakea, Hakea victoria [Section 100], another shrub without flowers, is so attractive. It is an upright shrub massed with green rounded leathery spiked leaves, prominent cream veins and yellow centers. Opposite, a grouping of Goodenia varia [Section 100] are small upright plants bright with yellow flowers and Brachyscome tatei [Section 100] is a small mounded plant with white daisies on short stems. Dampiera juncea [Section 100] is a dwarf plant with many horizontal branches tipped with brilliant blue flowers. Completing the loop, Hemiandra pungens [Section 100] lies prostrate bearing soft pink bugle flowers.
Leaving this area, cross the bridge into an area of correas including Correa 'Western Pink Star' [Section 72] crowded against the path, with soft pink star flowers and Correa pulchella [Section 72], low and dense and bright with pink tubular flowers. Over the road is Auranticarpa rhombifolia [Section 96] with dense clusters of orange fruits.
Another interesting area to visit …
Barbara Daly.