The Rock Garden is the subject for this week. What better place to start than at the waterfall, where to the left is Grevillea ' Poorinda Royal Mantle' [Section 15D], a mass of cherry pink toothbrush flowers spreading over the rocks. Follow the Main Path to the right of the waterfall then enter the Rock Garden on the left. Just before the steps on the right is Scaevola brookeana [Section 15S], a plant with delightful spoon-shaped leaves and delicate light blue fan flowers. Climb the stairs into the Rock Garden. Just to the right is Lobelia alata [Section 15S], a small perennial herb which has tiny little mauve flowers with narrow leaves creeping along the low lying rocks.
Continue along the path curving to the left and left again there is Brachyscome rigidula [Section 15Q], a member of the daisy family. This herb has lovely blue flowers with yellow centres and very fine foliage. Next door is Banksia ' Cape Patterson Dwarf' [Section 15Q], a low growing banksia with new lime-green flower heads.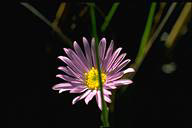 Brachyscome rigidula - click for larger image
In Section 15M note the graceful tree Eucalyptus lacrimans [Section15M], its elegant stem and leaves contrast beautifully with the rocks. Moving back around to Section R there is lots to see in flower. Ptilotus divaricatus [Section 15R] with creamy flower heads about 5cm high, just like bottle-brushes standing on 30cm stalks. Then there is Verticordia blepharophylla [Section 15R] just on the edge of the path, a small shrub of lavender-pink feathery flowers arranged along the spike. Also, Glischrocaryon behrii [Section 15R], a herbaceous perennial about 60cms high, it has glabrous stems with sparse leaves and yellow flowers. Dotted around are Swainsona sp . [Section 15R] shrubs. Their gorgeous deep crimson red pea flowers are a delight, contrasting well with fernlike leaves.
Leaving Section R, walk over to Section L. Hibbertia vestita [Section 15L], a prostrate plant with yellow flowers and tiny leaves, is weaving in and around the rocks. Continuing on, curving around to the right in the same area is Persoonia microphylla [Section 15L], a Geebung, with fine little flowers and tiny rounded leaves. To your left, in Section 15T is Chrysocephalum apiculatum [Section 15T], another low shrub which has yellow round daisies with velvet-like light green leaves.
Proceed to Section H where Grevillea lanigera [Section 15H] is in full flower: a medium size shrub with soft rounded leaves and pink crimson clustered flowers. Eucalyptus morrisbyi [Section 15W], a spreading prostrate eucalypt draping over the rock, with cream flowers, is interesting.
Enjoy the Autumn weather. Lesley Page