Just outside the Visitors Centre in the pot on the right is one of only two Australian native rhododendrons, Rhododendron lochiae, with large orange-red bells. In the same pot is Large-flowered Goodenia, Goodenia grandiflora, with yellow flowers. In another pot to the left in front of the Visitors Centre is Acacia mollifolia, with grey feathery leaves and yellow balls. Down the steps and to the left is Coastal Bush-Pea, Pultenaea maritima [Section 174] with bright yellow pea flowers, forming a mat in front of Springsure Zamia, Macrozamia moorei, which is not a palm, but distantly related to pine trees. Also in this bed is the small mauve daisy Brachyscome 'Breakoday' [Section 174]. A little farther on is Garland Lily, Calostemma purpureum [Section 174], with purplish bells. Across the path is the small Swamp Goodenia, Goodenia humilis [Section 174], with yellow flowers, a Guinea Flower, Hibbertia kaputarensis [Section 174], with large yellow flowers, and purple-flowered Dampiera sylvestris [Section 174].
Down the hill is the unlabelled New South Wales Christmas Bush, Ceratopetalum gummiferum [Section 142], six metres tall and covered in orange spent flowers. They have dropped their petals, and the sepals have enlarged and coloured up. Farther into the Tasmanian Garden is the sprawling mauve flowered Small-fruited Fan Flower, Scaevola albida [Section 171]. Close by is the large shrub Kunzea sp. aff. ericoides [Section 170], covered in small white flowers. In [Section 230] is the diminutive yellow flowered Velleia montana [Section 170]. Walking down past the pond you come to a mass flowering of the yellow flowered Chrysocephalum apiculatum [Section 230], and the unlabelled Silky Hakea, Hakea sericea [Section 230], a tall shrub with white spider flowers and cylindrical spiky leaves. As you cross the bridge, there is a mass of self-sown ACT native, Purple Loosestrife, Lythrum salicaria [Section 230] in the water and mud. It has large pinky purple spikes of flowers and is about three metres tall.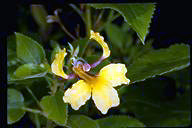 Goodenia grandiflora - click for larger image
Carry on up the road to the Crosby Morrison Building. Near the back door is Lignum Fuchsia Bush, Eremophila polyclada [Section 238], with large white lipped flowers. Just past the Crosby Morrison Building is Grevillea diminuta [Section 239], which grows only in the ACT in the Brindabella and Bimberi Ranges. It is in late bud and will have red flowers. Across the path is Correa 'Dusky Bells' [Section 311] with salmon pink tube flowers. Nearby is the ground cover Creeping Boobialla, Myoporum parvifolium [Section 240] with small white flowers. On the right is Callistemon 'Baroondah Salmon' [Section 310] with small pink brushes, and several Weeping Bottle Brush, Callistemon viminalis [Section 310], with large red brushes.
By the path back to the café is purple flowered Scaevola 'New Blue' [Section 240] interplanted with dull pink flowered Goodenia macmillanii [Section 240], then Crowea 'Coopers Hybrid' [Section 240] with bright pink star flowers.
Betty Wood