---
---
In Flower this Week
A weekly news sheet prepared by a Gardens' volunteer.
Numbers in square brackets [] refer to garden bed Sections. Plants in flower are in bold type.
18 February 2005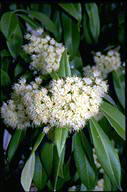 Backhousia citriodora - click for larger image
Edging Banks Walk is Eucalyptus morrisbyi [Section 172] with a low curving trunk leading to white branches with opposite blue-grey leaves and conspicuous white fluffy flowers.  At the far end of this Walk above the rock face, Plectranthus graveolens [Section 148] is a small aromatic, mostly upright plant with soft hairy leaves and purple flowers along upright wavy stems.  Opposite the stairs to the Café, surrounded by rainforest plants, the Conjevoi Lily, Alocasia brisbanensis [Section 125] has very large spade shaped leaves on long fleshy stems.  The flower, also on long stems, resembles an arum lily and is green-cream surrounding an orange fleshy spike.
Seen from the road uphill, edging the Rainforest Gully, are the graceful grass trees including Xanthorrhoea malacophylla [Section 125] lovely trunkless plants with fine leaves reaching upwards and arching outwards.  Hibiscus heterophyllus subsp. heterophyllus [Section 114] is a tall open  shrub displaying its large white flowers with red splashes.  At the Main Path crossing, a Lemon Ironwood, Backhousia citriodora [Section 78] is a small tree capped with large clusters of lemon centred fluffy flowers.  Close by, the Tall Saw-sedge, Gahnia clarkei [Section 78] is a tall fine sedge, dense with fine arching leaves surrounding stems with strands of black flowers and tiny tan coloured fruits.  A group of Lythrum salicaria [Section 78] tipped with small pink flowers on upright stems brighten this corner.  Opposite, Hibiscus splendens [Section 104] continues to bear its large cherry coloured flowers.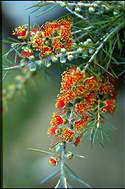 Callistemon brachyandrous - click for larger image
In the triangular garden bed, Chrysocephalum apiculatum [Section 17] is bright with small heads of orange and yellow flowers while in front, Brachyscome 'Roulette' [Section 17] has small mauve daisies rising above the dwarf mounded plant.  A short distance up-hill is a grouping of Crowea 'Festival' [Section 123] picturesque with an adequate covering of pink star flowers.  Opposite is a small tree, Backhousia myrtifolia [Section 140] well covered with cream calyces which followed the small white flowers and Commersonia fraseri [Section 140], also tall and well covered with clusters of tiny white daisy-like flowers.  Opposite, Eucryphia wilkiei [Section 123] displays its attractive cream saucer-shaped flowers over the medium rounded shrub.
Returning, follow the Main Path to the Rock Garden, passing a Fine Leaf Geebung, Persoonia pinifolia [Section 110] with graceful willowy branches covered with short fine leaves and terminating with clusters of yellow flowers.  Beside, in the green enclosure, the Wollemi Pine, Wollemia nobilis [Section 110] grows healthily.  Banksia aemula [Section 16] is quite a dense dark green shrub brightened with large cylindrical pale green-cream flower spikes.
Time to discover the small beauties growing in the Rock Garden, then down hill past bottlebrushes, Callistemon 'Smoked Salmon' [Section 110] with a few green-pink bottlebrush flowers and Callistemon brachyandrus [Section 110] with orange-red bottlebrushes sprinkled with lemon.
Yet other flowers to enjoy on this pleasant walk downhill to the café … 
Barbara Daly
---
Updated 1 March, 2005 , webmaster, ANBG (anbg-info@anbg.gov.au)
---