---
---
In Flower this Week
A weekly news sheet prepared by a Gardens' volunteer.
Numbers in square brackets [] refer to garden bed Sections. Plants in flower are in bold type.
11 February 2005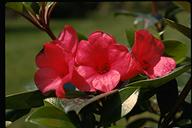 Rhododendron lochiae - click for larger image
This is a short walk abounding with colourful flowers to suit those with little time. On entering the gardens throught the main gates, the expanse of grasses with tall graceful nodding ochre flower heads is mostly of the kangaroo grass, Themeda australis [Section 175].   In the pots at the entrance to the Visitors Centre, plants include Rhododendron lochiae with bright red trumpet flowers on a low spreading shrub and a ground cover Goodenia sp. with bright yellow flowers.  These are seen below the large arching fronds of the Bird's Nest Fern, Asplenium australasicum.  Against the wall a wattle, Acacia mollifolia [Section 221] is a tall, slender shrub reaching towards the path, with fine divided velvety leaves and sprays of golden fluffy flower balls.
The background to the statue of Sir Joseph Banks is Banksia serrata [Section 172], tall with dark foliage and large cylindrical green-grey flower spikes seen mostly at the tops of these shrubs.  Banks Walk is edged with numerous, still colourful, kangaroo paws.  They include Anigozanthos 'Bush Dawn' [Section 210] with bright yellow 'paw' flowers on long bare stems, Anigozanthos 'Bush Noon' [Section 210] with yellow-orange coloured flowers and Anigozanthos 'Bush Glow' [Section 210] with flowers coloured red.  Prostrate and brilliant, Scaevola 'New Blue' [Section 210, 174] have vivid blue flowers along the dense trailing stems.  Below the notice 'Add colour to your garden – with Australian Plants' is another prostrate plant, Pelargonium rodneyanum [Section 174] with attractive magenta coloured flowers over the suckering plant.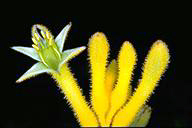 Anigozanthos 'Bush Glow' - click for larger image
At the corner the attractive small shrubs, Crowea 'Festival' [Section 174] are clad with pink star flowers.  In the crescent garden, a suckering herb, Brachyscome formosa [Section 174] bears mauve daisies and Goodenia humilis [Section 174] is small and mounded with its yellow flowers to complement.  Dampiera sylvestris [Section 174] is close by with its blue flowers on upright stems. Opposite and in the centre of the garden the glorious orange-red flowers crowning the Eucalyptus ficifolia [Section 174] could not be missed. Cross  over the car park to the Tasmanian Section where probably many  Gippsland Water Dragons, Physignathus lesueurii howittii [Section 149] can be seen basking in the sun.  Entering this section, the NSW Christmas Bush, Ceratopetalum gummiferum [Section 142] displays its renowned reddened swollen calyces which followed the tiny white flowers, mostly at the top of the tall shrub.
This next section is in front of the Café building in the Ellis Rowan Garden where the   Grevillea 'Deua Flame' [Section 131] is a rather dense shrub which dangles its lovely red terminal flower clusters from pendulous branches.   Opposite, a grouping of Crowea 'Cooper's Hybrid' [Section 240] is floriferous with its shade of pink star flowers. On the opposite side of this garden is a colourful patch containing Goodenia macmillanii [Section 240] with small upright stems of pink flowers, surrounded by Scaevola 'New Blue' [Section 240], with its flowers so blue and behind, Senecio sturtianum [Section 240] with deep purple flowers and grey-green foliage on upright stems.
So many flowers to enjoy …                                        Barbara Daly.
---
Updated 1 March, 2005 , webmaster, ANBG (anbg-info@anbg.gov.au)
---