---
---
In Flower this Week
A weekly news sheet prepared by a Gardens' volunteer.
Numbers in square brackets [] refer to garden bed Sections. Plants in flower are in bold type.
4 February 2005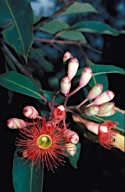 Eucalyptus ficifolia - click for larger image
The gardens continue to be a kaleidoscope of colour.  Banks Walk containing the striking crimson flowers of Eucalyptus 'Wildfire' [Section 174] and Eucalyptus ficifolia [Section 174] is looking wonderful and so is the Rock Garden.  This walk will select some plants in this area.
Starting in an anticlockwise direction, in front of the waterfall, the small angular tree, Eucalyptus extrica [Section 15V] has an abundance of fluffy cream flowers, and the display of pink flowers on upright stems are those of Lythrum salicaria [Section 15Q].  Ascending the stairs, Sturt's Desert Pea, Swainsona formosa [Section 15S] displays, not the renowned red pea flowers but an interesting white with pink throated pea-flower, seen cascading down the rocks.  Close by Brachyscome angustifolia var. heterophila [Section 15P] is a dense ground-cover dotted with small pink daisy-like flowers.  Almost opposite an open area contains small colourful plants which include the yellow flowers, on upright stems, of Glischrocaryon behrii [Section 15R]; the deep purple flowers, on trailing stems, of Scaevola calliptera [Section 15R]; and a mulla mulla, Ptilotus divaricatus [Section 15R] with greenish-cream hairy ovoid flower heads over the dwarf shrub.  At the corner, Halgania anagalloides var. preissiana [Section 15R] is a small shrub exhibiting its deep blue flowers.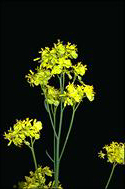 Glischrocaryon behrii - click for larger image
A new section of the Rock Garden, only two years old, faces a lawn.  Beside the seat, Hypocalymma sp. [Section 15N] is a small pretty shrub covered with pink fluffy flowers.  On the top road, Solanum sturtianum [Section 15N] has deep purple open flowers mixing with the grey-green foliage on an upright plant.
Small plants here include a mint bush, Prostanthera cryptandroides [Section 15J] bearing shades of lilac bugle-shaped flowers over a small shrub.  Brunoniella australis [Section 15J] is a dwarf plant covered with small mauve-blue trumpet-like flowers.  Eucalyptus pachyphylla [Section 15H] is yet very small with prominent red buds now opening to cream or yellow flowers.  Close by is Scaevola albida var. albida [Section 15H] with a profusion of white fan-flowers over the prostrate plant.
Towards the end of this section, kangaroo paws Anigozanthos flavidus [Section 15H] display their copper-toned 'paw' flowers atop long stems.  A hybrid geebung, Persoonia linearis x pinifolia [Section 15H] is a large shrub well endowed with tiny tubular yellow terminal flowers mixing with soft needle foliage on pendulous branches.  At the corner sit below the overhanging branches of another large shrub, Grevillea 'Mason's Hybrid' [Section 15H] with lovely red and cream terminal flower clusters favoured by the large nectar seeking Red Wattle Birds.
Garland Lily, Calostemma purpureum [Section F,B] has strap-like leaves and loose heads of numerous pale red tubular flowers on bare upright stems.  ACT's Floral Emblem, the Royal Bluebell, Wahlenbergia gloriosa [Section 15V] seen close to the rocks, is a suckering plant with large deep blue flowers on slim erect stems.  Grevillea 'Royal Mantle' [Section 15D] with red toothbrush-flowers, flows down the rock face beside the waterfall and Hibbertia pedunculata [Section 15D] with yellow flowers hugs the base of the rocks edging the stairs.
Just a few of the floral wonders of this area …
Barbara Daly.
---
Updated 1 March, 2005 , webmaster, ANBG (anbg-info@anbg.gov.au)
---