---
---
In Flower this Week
A weekly news sheet prepared by a Gardens' volunteer.
Numbers in square brackets [] refer to garden bed Sections. Plants in flower are in bold type.
28 January 2005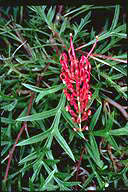 Grevillea 'Bronze Rambler' - click for larger image
This walk will follow the Main Path, but first, view the flame red bell flowers of Rhododendron lochiae in the pots outside the Visitors Centre and the clusters of striking red flowers of Grevillea 'Deua Flame' [Section 131] seem just past the café.
Following the path at the end of this building Eucalyptus parramattensis var. sphaerocalyx [Section10] is a small tree well covered with white fluffy flower balls. Eremophila christophori [Section 302] has deep mauve, almost bell shaped flowers over a small neat shrub.  Kangaroo paws are still brilliant throughout the gardens and in the distance, Anigozanthos flavidus 'Bush Baby' [Section 7] so vividly yellow blends with Anigozanthos flavidus 'Bush Ruby' [Section 7] with deep maroon flowers.
Walk below the arching branches of small white flowers of Babingtonia pluriflora [Section 30].  See the ground-cover, Grevillea 'Bronze Rambler' [Section 30], so dense with many red toothbrush flowers.  Hear the chortling of the magpies competing with a few families of choughs calling together with their daily news.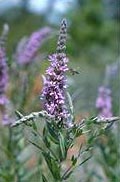 Lythrum salicaria - click for larger image
Then, behind the 'Family Proteaceae' noticeboard, Banksia pilostylis [Section 25] is a small, dense shrub exhibiting deep cream flower spikes.  Notice Grevillea obliquistigma var. obliquistigma-funicularis [Section 26], as yet small and well covered with cream terminal flowers.  Banksia serrata [Section 112] is tall, dense and exhibits its many large, upright grey-green flower spikes.
Follow the path through the 'Flora of the Sydney Region'.  Plants include  Scaevola ramosissima [Section 191H] with purple fan flowers along the trailing stems and Flannel Flowers, Actinotus helianthi 'Federation Stars' [Section 191] with soft grayish foliage and white velvet flowers which are seen throughout this area.  In the valley the white fluffy flower sprays over small shrubs are those of Bursaria lasiophylla [Section 191S].  Opposite the look-down, Thysanotus juncifolius [Section 191P] has interesting fringed three-petalled purple flowers on upright stems while the blue flowers are those of Dampiera stricta [Section 191P].  Hibbertia pedunculata [Section 191G] is a dense mounded plant dotted with bright yellow flowers.  At the corner Acacia linifolia [Section 191D] is a small open tree with arching branches bearing terminal heads of soft cream flowers.  Opposite, Platysace lanceolata [Section 191E] is quite showy with clusters of small white flowers covering the dense shrubs.  Melaleuca thymifolia [Section 191E], fairly hidden, has lacey pink flower balls edging its stems.  Finally, Crowea saligna [Section 191U] in the display garden, has bright pink waxy flowers over an open small shrub.
Walk through the open Eucalyptus Lawn where January concerts are held, down to the Rock Garden which is a haven of mostly small plants including Derwentia arenaria [Section 4] with deep blue flowers, Lythrum salicaria [Section 15D] with upright spikes of pink flowers and one Sturt's Desert Pea, Swainsona formosa [Section 15V] bearing its renowned rich red pea-flower.  Pass by Banksia aemula [Section 16] laden with grayish-green flower spikes, through the cooling green Rain Forest and down the ramp where Hibiscus heterophylus subsp. luteus [Section 210] displays its large white flowers.
Such a pleasant walk …                                                                                                        Barbara Daly.
---
Updated 1 March, 2005 , webmaster, ANBG (anbg-info@anbg.gov.au)
---