---
---
In Flower this Week
A weekly news sheet prepared by a Gardens' volunteer.
Numbers in square brackets [] refer to garden bed Sections. Plants in flower are in bold type.
17 December 2004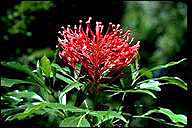 Alloxylon pinnatum - click for larger image
There are flowers near and in the Rain Forest, some of which are seen on this walk.  After admiring those in the pots outside the Information Centre, the display of flannel flower cultivars, Actinotus 'Federation Stars' [Section172] with soft velvety daisy-like flowers edging Banks Walk are quite spectacular.  At the far end of Banks Walk is a Wedding Lily, Dietes robinsoniana [Section 210] a tussocky plant with erect broad leaves and white iris-like flowers on upright stems.  Turn left and go up the stairs to meet the Main Path and follow it until you see wooden stairs on your right down into the gully.  Before descending view the Dorrigo Waratah, Alloxylon pinnatum [Section  148], an upright small tree crowned with loose clusters of red flowers.  Lining the stream the Stream Lily, Helmholtzia glaberrima [Sections 144,145] has plumes of feathery pink flowers surrounded by large flax-like leaves.  From the platform view, across the stream, a Black Wattle, Callicoma serratifolia [Section 147] well covered with fluffy cream flower balls.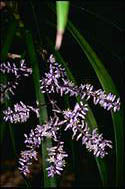 Cordyline stricta - click for larger image
Return to the Main Path and back to the bitumen road above it.  Westringia blakeana [Section 219] is a spreading shrub showered with pale mauve flowers while Syncarpia glomulifera [Section 219] is a small tree with patterned fibrous bark and clusters of fluffy white flowers.  Opposite, the Native Elderberry, Cuttsia viburnea, [Section  64] has sprays of small white aromatic flowers over the spreading shrub.  The path then terminates at a most colourful corner of Australia's own rhododendrons, some crossed with New Guinea species.  Grouped together, the scene down the slope is one of small shrubs, Rhododendron lochae x magregoriae [Section 62] and Rhododendron laetum x lochae [Section 62] clad with the dark green foliage and lovely large trumpet-like bright orange-red flowers.  Walk down the narrow path past the Grass trees, Xanthorrhoea glauca subsp. glauca [Section 62] with dense green skirt-like foliage and short upright spikes well covered with tiny white flowers, to the steps.  Cordyline stricta [Section 62] is a neat upright palm-like plant bearing thread-like stems of purple flowers.
Cross over the bridge, and follow the path till you leave the Rainforest Gully.  This corner is picturesque with Prostanthera phylicifolia [Section 123], low shrubs dense with white flowers and a backdrop of Crowea 'Festival' [Section 123], somewhat taller shrubs sparkling with pink star-like flowers.
Returning downhill the triangle garden is bright with kangaroo-paws, Anigozanthos flavidus [Section 17] and its cultivars with flowers of varying shades of red, yellow and green, all on long upright stems.  Opposite is a grouping of Gymea Lilies, Doryanthes excelsa [Section 78] with deep red flower clusters atop long spikes surrounded by long, wide sword-like leaves.  Grevillea robusta [Section 78] is a tall tree which spreads its low lateral branches bright with its large sprays of golden flowers.  Native Frangipani, Hymenosporum flavum [Section 114] is a small upright tree laden with its fragrant cream and yellow flowers and, in clusters and edging the path, numerous Cuttsia viburnea [Sections 114, 125] shrubs, with flowers so well perfumed.
Flowers in the Rainforest, how wonderful …                                            Barbara Daly.
---
Updated 15 December, 2004 , webmaster, ANBG (anbg-info@anbg.gov.au)
---