---
---
In Flower this Week
A weekly news sheet prepared by a Gardens' volunteer.
Numbers in square brackets [] refer to garden bed Sections. Plants in flower are in bold type.
10 December 2004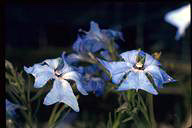 Lechenaultia biloba - click for larger image
Can't help but admire the collection of flowers in pots at the entrance of the Visitors Centre.  The Rock Garden too, has a great assortment of colour so... come up and see!
Starting in a clockwise direction at the base of the stairs at the waterfall Lomatia tinctoria [Section 15D] is an erect shrub well covered with attractive cream floral sprays.  Hibbertia pedunculata [Section 15D] with bright yellow flowers hugs the base of the rocks while Grevillea 'Poorinda Royal Mantle' [Section 15D] with pink toothbrush-like flowers carpets the rocky slope.  There are patches of Brachyscome multifida [Section 15D] with small daisy-like flowers over a dwarf plant with soft foliage.  The tiny clusters of bright yellow and orange flower heads with green foliage are Chrysocephalum semiamplexicaule [Section 15D]. Behind, Lechenaultia biloba [Section 15D] has a coverage of powder-blue flowers while, nearby a taller open shrub, copper cups, Pileanthus limacis [Section 15D] is showy with coral coloured flowers.  At the corner Banksia blechnifolia [Section 15D] is prostrate with erect deeply lobed leaves, the young being a rust colour, and flower spikes erect from the soil, coloured shades of red.
A trigger plant, Stylidium graminifolium [Section 15V], best seen around the corner, is a tufted plant with small pink 'trigger' flowers along the upright stems.  Eremophila warnesii [Section 15F] is an odd looking plant with short thick branches covered densely with hairy leaves and deep purple bugle flowers.  Find Ptilotus exaltatus var. semilanatus [Section 15B], a tiny plant with fluffy silver and magenta coloured flower-balls, seen next to a rock-face.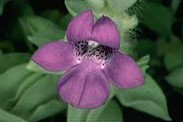 Eremophila warnesii - click for larger image
At the top of the stairs Hibbertia kaputarensis [Section 15A] continues to bear its bright yellow flowers, while opposite the large Grevillea 'Mason's Hybrid' [Section 15H] is decorated with its large terminal reddish flower spikes.  Edging this road a kangaroo paw, Anigozanthos flavidus [Section 15H] shows off its 'paw' copper toned flowers on long upright stems.  Dampiera diversifolia [Section 15H] is a suckering prostrate herb massed with deep blue flowers while Dampiera sylvestris [Section 15H] also suckers with upright stems of another shade of blue flowers.  Between is Scaevola albida var. albida [Section 15H] with white fan-flowers covering the low spreading shrub.
Along the lower level of the next section Verticordia pennigera [Section 15N], although small, is quite stunningly covered with small feathery pink flowers.  Ptilotus obovatus 'Cobtus' [Section 15N] is a low spreading plant with rounded grey flower heads.
Swainsona sp. [Section 15R] is upright with maroon pea-shaped flowers while Verticordia mitcheliana [Section 15R], although misshapen, has bright red fluffy flowers.  In this newly planted area Scaevola phlebopetala [Section 15R] is a prostrate plant with large deep purple yellow throated flowers along its small trailing stems.  Almost opposite, Sturt's Desert Pea, Swainsona formosa [Section 15S] displays its renowned brilliant red-with-dark-centre pea-shaped flowers with grayish divided leaves.  Close by is an interesting white variant.  Both plants are still quite small.
Always other flowers to admire …
Barbara Daly.
---
Updated 8 December, 2004 , webmaster, ANBG (anbg-info@anbg.gov.au)
---