---
---
In Flower this Week
A weekly news sheet prepared by a Gardens' volunteer.
Numbers in square brackets [] refer to garden bed Sections. Plants in flower are in bold type.
3 December 2004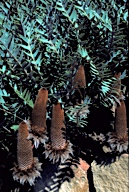 Banksia blechnifolia - click for larger image
We follow the Main Path through many colourful sections of the Gardens, starting at the far end of the Café building.  A Geralton Wax cultivar, Chamelaucium uncinatum 'Purple Pride' [Section 12] arranges its bright magenta flowers on top of an upright shrub while overhanging it is a tea-tree, Leptospermum brevipes [Section 12] with branches covered with small open white flowers.  Leptospermum 'Aphrodite' [Section 11], leaning towards the path, has attractive bright pink flowers.  Close by Melaleuca steedmanii [Section 11], has tight red bottlebrush-like flowers sprinkled with gold.  Bottlebrushes also continue to be showy and Callistemon subulatus [Section 11] has a coverage of red bottlebrushes over the low spreading shrub.
An emu bush, Eremophila racemosa [Section 302] is a small shrub colourful with developing orange flowers opening to a cerise colour.  Thelionema grande [Section 303,]7] is a tufted plant bearing its striking blue star-like flowers on slender upright stems.  In front, grass trees, Xanthorrhoea glauca [Section 7] have dense green grassy skirts concealing the thick trunks.  Some are producing long upright spikes dense with white flowers.  The Gymea Lily, Doryanthes excelsa [Section 7] is spectacular because of its large red flower cluster atop an elongated bare spike surrouded by its large sword-like leaves.  Kangaroo paws, now flowering, include Anigozanthos flavidus [Section 7] with matt green 'paw' flowers on long upright stems and Anigozanthos 'Bush Baby' [Section 7] with rust red flower sprays.  Banksia blechnifolia [Section 30,25] is a dwarf spreading shrub with few dark flower spikes and deeply lobed leaves which appear to emerge from the soil.
Crossing the road, Persoonia chamaepitys [Section 24] is a dense ground cover with fine green foliage well covered with yellow flowers.  Grevillea johnsonii x wilsonii [Section 24] is a dense upright shrub displaying its lovely red waxy curvaceous flower spikes.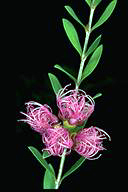 Melaleuca thymifolia - click for larger image
Continuing to the Sydney Region Flora, the white Flannel Flowers, Actinotus helianthi 'Federation Stars' [Section 191] are spectacular and profuse throughout this section, with their velvety silvery grey divided leaves and green tipped white daisy-like flowers.  Scaevola ramosissima [Section 191H] has purple fan flowers along its trailing prostrate stems, Coopernookia barbata [Section 191H] is a small plant pretty with pink flowers.  The golden glow of upright shrubs are Jacksonia scopara [Section 191H] well covered with their pea flowers.  Admire too, the small Fringed Lily, Thysanotus juncifolius [Section 191P] with fringed three-petalled purple flowers, Hibbertia pedunculata [Section 191J] with dark green foliage highlighted with bright yellow flowers, Boronia microphylla [Section 191M] covered with small pink flowers.  There is Melaleuca thymifolia [Section 191L] with lovelly purple feathery flowers along it branches … and so many more.
Crossing the cool Eucalyptus Lawn to the Rock Garden we pass a fascinating Hakea trineura [Section 20] with its pendent burnt red flower spikes over the tall shrub.  The Rock Garden is another area of colourful plants including Dampiera diversifolia [Section 15R] a ground cover carpeted with its blue flowers and Sturt's Desert Pea, Swainsona formosa [Section 15D] with one majestic brillilant red with dark center pea flower.
Then a relaxing walk through the cooler Rain Forest with few flowers and such a variety of greenery, to the ramp where Melaleuca wilsonii [Section 210] crowds its branches with deep purple frilly flowers and Boronia 'Carousel' [Section 210] dangles its fragrant bright pink cup-shaped flowers from its branches.
Such colour, such splendour …                                                                                                                        Barbara Daly.
---
Updated 8 December, 2004 , webmaster, ANBG (anbg-info@anbg.gov.au)
---