---
---
In Flower this Week
A weekly news sheet prepared by a Gardens' volunteer.
Numbers in square brackets [] refer to garden bed Sections. Plants in flower are in bold type.
19 November 2004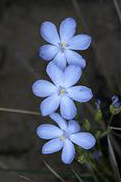 Orthrosanthus multiflorus - click for larger image
This is a short walk about the buildings, where the variety of colourful plants is large and so only a small selection is included.  Starting from the Visitors Centre in an anticlockwise direction, descend the stairs to view a patch of Cheiranthera linearis [Section 223] with blue-mauve open petalled flowers on upright slender stems.  Verticordia galeata [Section 222] has a coverage of bright yellow fluffy flowers over small shrubs.  A bank of Homoranthus shrubs include Homoranthus papillatus [Section 222] with cream-green flowers and Homoranthus prolixus [Section 222] with yellow flowers.  These shrubs are strongly aromatic and compact with a horizontal spread. Leptospermum 'Rhiannon' [Section 222] is an upright shrub with white-centred crimson 'peach blossom' flowers.
Passing the bus shelter and edging the path, Orthrosanthus multiflorus [Section 174] has blue flowers on bare spikes rising above the strappy leaves.  The bright pink flowers are those of Pimelea sp. [Section 174] and at the garden curve, patches of the ground cover, Dampiera diversifolia [Section 174] are massed with small blue flowers.
Following the Banks Walk towards the Visitors Centre, Lechenaultia biloba [Section 174] is a dwarf plant presenting white-centred powder-blue flowers.  Opposite, Scaevola 'New Blue' [Section 210] spreads its stems well covered with dazzling yellow centred blue fan-shaped flowers along the ground.  Sharing the edging are a trigger plants, Stylidium adnatum [Section 210] small, many stemmed plants profuse with pale pink flowers.  Opposite, Hibbertia vestita [Section 174] is a small, mounded plant with dark green foliage brightened with yellow open flowers.  A kangaroo paw, Anigozanthos 'Bush Glow' [Section 174] reveals its 'paw-like' red-yellow flowers on upright stems while the large florific shrub, Alyogyne huegelii 'Westcoast Gem' [Section 210] continues to bear purple hibiscus flowers.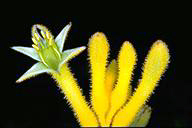 Anigozanthos 'Bush Glow' - click for larger image
Border plants in the Ellis Rowan Garden in front of the café building are Chrysocephalum apiculatum [Section 131] with soft grey foliage bright with yellow button flowers on upright stems.  Brachyscome 'Breakoday' [Section 131] has soft green foliage dotted with small mauve daisies.  Behind, Grevillea 'Deua Flame' [Section 131] is a many-branched shrub with loose red pendulous flowers amid the bright green foliage.  Tetratheca 'Bicentennial Belle' [Section 131] is a dwarf shrub covered with downturned mauve flowers.  In the small square garden opposite, Tetratheca ciliata [Section 240] is a larger upright shrub having white flowers.  Chamelaucium uncinatum 'Newmarracarra' [Section 240] is an open shrub with long arching branches covered with pink wax flowers.  Opposite, Lechenaultia formosa [Section 240] is so small but covered with deep red flowers while behind, Prostanthera spinosa [Section 240] is a neat rounded plant clad with small white bugle flowers amid the spiny stems.  Find, around the corner, Goodenia macmillanii [Section 240] bearing large pink crimped flowers on upright stems.
Such flowers,  such colour …                                   Barbara Daly.
---
A bonus for those with time, in the Public Display Glasshouse  Amorphophallus paeoniifolius, the Elephant Yam with huge purple flowers just maturing … dies after about 4 days.
---
Updated 19 November, 2004 , webmaster, ANBG (anbg-info@anbg.gov.au)
---