---
---
In Flower this Week
A weekly news sheet prepared by a Gardens' volunteer.
Numbers in square brackets [] refer to garden bed Sections. Plants in flower are in bold type.
12 November 2004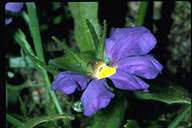 Scaevola phlebopetala - click for larger image
The floral displays edging Banks Walk and of the Ellis Rowan gardens are so colourful but did you know there are other sections which are quite stunning?  One worth visiting is the Western Mallee section of plants from S.A. and W.A., so this walk will select some plants in that area.
Walking up beside the old nursery Emu Bush, Eremophila racemosa [Section 100] is a small upright shrub interesting with buds coloured yellow to orange and opening to bugle shaped flowers coloured reddish purple.  Coopernookia polygalacea [Section 100] has mauve flowers over this dwarf shrub.  The splash of yellow is that of Glischrocaryon behrii [Section 100], a suckering herb with flower clusters on upright slender stalks. Grevillea fulgens [Section 100], a medium dense shrub, is speckled with solitary red and cream curved flowers while Prostanthera florifera [Section 100], although quite small, is well endowed with port-wine bugle flowers with spotted throats.  At the corner Hibbertia sericea [Section 100] continues to bear bright yellow flowers.
Around the corner Eremophila christopheri [Section 100] has mauve bugle flowers on the small upright shrub.  At its base Scaveola phlebopetala [Section 100] covers the small prostrate plant with yellow throated, deep purple fan-shaped flowers. In an anti-clockwise direction, flowers seen from the board-walk include Pimelea spectabilis [Section 100] with its pink centred white fluffy flowers covering the small shrub.  Dampiera dysantha [Section 100], low and straggly, has bright blue flowers.  Grevillea quercifolia [Section 100] with long arching branches clad with short sharp leaves and terminal clusters of conspicuous pink-purple flowers.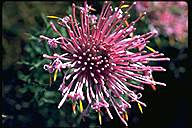 Isopogon formosus - click for larger image
Lechenaultia biloba [Section 100] is a small shrub clad with powder blue flowers and Pityrodia teckiana [Section 100] has attractive mauve trumpet flowers over a small shrub. A Geraldton Wax cultivar, Chamelaucium uncinatm 'Eric John' [Section 100] is a medium dense shrub crowned with clusters of small cream open flowers. Another spectacular shrub, Rose Cone-flower Isopogon formosus [Section 100], has deep pink floppy flowers covering a small shrub.  Lechenaultia formosa [Section 100] is a small plant covered with rich red flowers and opposite, Hibbertia stellaris [Section 100] is a small rounded shrub bright with lovely orange flowers. Down the bank, at the curve, the glowing red flowers are that of  Grevillea wilsonii [Section 100]. In front, Verticordia chrysantha [Section 100] is small and erect with bright yellow feathery flower heads.
Dryandra sessilis [Section 100], past the curve, is small with cream flower heads amid the toothed leaves.  Grevillea asteriscosa [Section 100] has a spreading habit with clusters of bright red flowers amid the small prickly leaves.  Brachyscome tatei [Section 100], is a small compact herb with white daisies on upright stems.  Banksia coccinia 'Waite Crimson' [Section 100] is an upright shrub having lovely squat crimson ribbed flower heads. Edging the valley, Acacia dempsteri [Section 100] is eye-catching with large yellow flower balls to decorate.
Worth the walk …                                                           Barbara Daly.
---
Updated 10 November, 2004 , webmaster, ANBG (anbg-info@anbg.gov.au)
---