---
---
In Flower this Week
A weekly news sheet prepared by a Gardens' volunteer.
Numbers in square brackets [] refer to garden bed Sections. Plants in flower are in bold type.
5 November 2004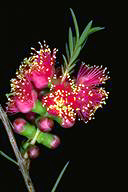 Melaleuca 'Hot Pink' - click for larger image
This is a late spring walk following the Main Path to experience the diversity of our flora, the range of which is really amazing.  So, starting at the far end of the Café building, a Geraldton Wax cultivar, Chamelaucium uncinatum 'Purple Pride' [Section 12] arranges its bright magenta flowers on top of an upright shrub.  Melaleuca fulgens 'Hot Pink' [Section 10,11] lights the area with its stumpy bold red bottlebrush-like flowers.  Not so 'bold' an emu bush, Eremophila nivea [Section 302] bears purple trumpet flowers amid its soft grey foliage. Bulbine glauca [Section 8] displays its yellow flowers on top of upright stems.
The path then reaches a group of waratahs, here, Telopea 'Doug's Hybrid' [Section 30] is crowned with red flower heads and Telopea mongaensis [Section 30] is somewhat similar being one parent of the former hybrid.  Homoranthus sp. [Section 30] is a group of small spreading flat-topped shrubs covered with a haze of yellow perfumed flowers.  Notice here Banksia blechnifolia [Section 30] with deeply lobed leaves and dusky red flower-spikes which seem to emerge from the soil.  Further back the taller Grevillea dielsiana [Section 30] has lovely orange flower clusters along the stems.  Opposite, Pultinaea pedunculata 'Pyalong Gold' [Section 30] has a dense coverage of yellow flower over this ground cover.
Crossing the road, pass a patch of bluebells, Wahlenbergia stricta [Section 26] to Grevillea johnsonii x wilsonii [Section 24] a dense shrub displaying its lovely red waxy curvaceous flowers.  Grevillea flexuosa [Section 26] has yellow candle-like flowers on the tips of its extended branches.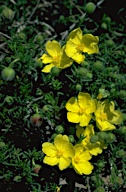 Hibbertia pedunculata - click for larger image
Boronia muelleri 'Sunset Serenade' [Section 112] is a small rounded shrub, pink with star-like flowers.  Through the Sydney Region Flora several boronias can be seen.  Boronia barkeriana [Section 191H] arranges its deep pink four-petalled flowers on ground hugging radiating stems.  Milkmaids, Burchardia umbellata [Section 191H] bears its white flowers on erect stems.  Opposite the look-down, Patersonia glabrata [Section 191P] displays its purple three-petalled flowers on upright stems and Scaevola sp. [Section 191P] is a patch of blue.  Black-eyed Susan, Tetratheca thymifolia [Section 191J] is low and densely covered with down-turned pink flowers while opposite, Bauera rubioides [Section 191G], has pale pink down-turned flowers.  At the junction Boronia pinnata [Section 191] has deep pink cup-like flowers, paler on opening.
Crossing the peaceful Eucalypt Lawn to the Rock Garden, just laden with flowers, Hibbertia pedunculata [Section 4] has bright yellow flowers over a dense mounded shrub and Dampiera diversifolia [Section 15R] cascades down the slope covered with deep blue flowers.  Sturt's Desert Pea, Swainsona formosa [Sections 15S,15V] are such small plants yet revealing the large attractive dark centred red pea-flowers.
Then a stroll through the Rainforest Gully welcomed by few orchids, Dendrobium kingianum [Section 104] with dainty pink flowers, snug between the rocks and later, the lovely white flowering Orange Blossom Orchid, Sarcochilus falcatus [Section 148] clinging to the tree trunks. 
Down the ramp flowers include a mint bush, Prostanthera saxicola var. major [Section 210] with perfumed mauve flowers.  The brilliant Alyogyne 'Westcoast Gem' [Section 210] continues to be covered with its deep purple hibiscus flowers and at the exit, the soft pink flowers of a tea-tree, Leptospermum 'Pink Cascade' [Section 210] cascade down the rocks.
Flowers, flowers, beautiful flowers …                                                                               Barbara Daly.
---
Updated 3 November, 2004 , webmaster, ANBG (anbg-info@anbg.gov.au)
---