---
---
In Flower this Week
A weekly news sheet prepared by a Gardens' volunteer.
Numbers in square brackets [] refer to garden bed Sections. Plants in flower are in bold type.
29 October 2004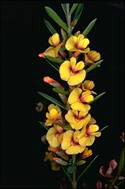 Eutaxia cuneata - click for larger image
You may be interested to know that the July-September water usage in the Gardens is usually about 19,500 kl.  This year 15,000 kl. was used which is a 24% reduction.  And the Gardens are magnificent with the floral displays seen about the buildings.
This walk, however, will be way up above the old nursery site to an area of varied colour, bush perfume and music provided by the many birds.  Asterolasia phebalioides [Section 46] is a very small shrub bright with yellow flowers.  Phebalium nottii [Section 46] is also small with pink multi-petalled flowers.  Edging this path the mounded spreading plants with dark green foliage are Zieria prostrata [Section 46].  The minute flowers are white or pale pink.  Moving up this path Pultenaea sp. [Section 55] is a blaze of yellow with pea-flowers clinging to the low extended branches.  Nearby other pea flowers include the Box-leaf Bitter-pea, Daviesia buxifolia [Section 55], a smaller shrub with small dark-centred yellow flowers clustered along the branches.  Eutaxia cuneata [Section 55], best seen beside the upward path, is low and spreading with tiny reddish-orange pea flowers scattered among the foliage.
Opposite is a grouping of Boronia crenulata var. crenulata [Section 56], dense dwarf shrubs well covered with small pink four-petalled flowers.  The taller backdrops include Zieria smithii subsp. smithii [Section 56] with white flowers scattered loosely over the shrub, Zieria granulata [Section 56] with narrow shiny foliage and clusters of small white flowers, and Zieria formosa [Section 56] with grey-green foliage and dusky pink flowers.  Grevillea 'Frampton's Hybrid' [Section 56] has long branches of shining green leaves shared with pink toothbrush-like flowers.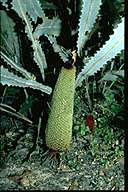 Banksia petiolaris - click for larger image
Returning to the narrow path where a hedge of Boronia heterophylla [Section 46] is well covered with rows of small red down-turned bell-like flowers.  Opposite, Boronia tetrandra [Section 46] has yellow bell-shaped flowers along its prostrate branches.  Philotheca buxifolius subsp. falcata [Section 46] is also prostrate with larger pink-tipped white five-petalled flowers.  The backdrop here is Boronia pinnata 'Spring White' [Section 46] densely covered with flowers.  Over this upper path, a grouping of Boronia pinnata 'Sunset Serenade' [Section 46] bears pink star-flowers over the dwarf shrubs.  Further back, a blaze of deep pink flowers are those of Boronia 'Lorne Pride' [Section 46].
Continuing along this upper path Grevillea johnsonii [Section 56] wraps its long branches with slim divided leaves and red-orange shining curvaceous flowers, around a tree trunk.  Opposite, a garden of Boronia 'Tyalge Ruby' [Section 56], so splendid with their own shade of mixed pink flowers over small shrubs.  (There are over 90 species of Boronia in Australia).  Dryandra glauca [Section 56] is a small shrub with interesting yellow flower-heads.
Time now to take a seat at the top of the path.  Admire the tall open waratah, Telopea mongaensis x speciosissima [Section 56] displaying the lovely red flower-heads and, beside the seat, Banksia petiolaris [Section 56] a spreading prostrate plant with long, mostly erect leaves and showing a few rust-red juvenile flower spikes upright on the ground
Such colour … such beauty …
Barbara Daly.
---
Updated 27 October, 2004 , webmaster, ANBG (anbg-info@anbg.gov.au)
---