---
---
In Flower this Week
A weekly news sheet prepared by a Gardens' volunteer.
Numbers in square brackets [] refer to garden bed Sections. Plants in flower are in bold type.
22 October 2004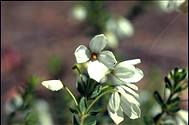 Tetratheca thymifolia - click for larger image
This week's walk meanders from near the Visitor Centre to the Rockery, where the variety of plants in flower invites exploration for as long as possible.  At the end of Banks Walk, opposite the water feature, walk around the corner.  Under Eucalyptus 'Wildfire', Thomasia pygmaea [Section 174], is low to the ground and almost covered with nodding, mauve flowers.  Opposite, near the road, Tetratheca thymifolia [Section 174] has similar, but larger flowers.  Back near the corner Acacia lasiocarpa var. lasiocarpa [Section 174] draws the eye with its fine green foliage and golden flowers.  Several sprawling plants of Dampiera diversifolia [Section 174] add contrast with their intense blue flowers.
On the right, at the entrance to the bridge over the Tasmanian Rainforest, Richea dracophylla [Section 66] has some thick white flower spikes.  Don't cross the bridge, but take the road on the left and turn up the hill.  There are many epiphytic plants, including orchids, growing along the rainforest edge.  Just before the ornamental bollards, take the first road on the right, where Grevillea 'Poorinda Royal Mantle' [Section 124] with pink-red toothbrush flowers, spreads over a large area.  A few steps further on, bright red flower spikes are beginning to open on Callistemon 'Howies Fire Glow' [Section 124].  Still on the left Grevillea 'Poorinda Leane' [Section 124] is showy with profuse, pale apricot flowers contrasting with darker foliage.  On the right the flower spikes of Melaleuca 'Hot Pink' [Section 126] are a lovely vibrant colour.  The white-flowered creeper covering a eucalypt is Pandorea pandorana [Section 126]. At the corner Melaleuca fulgens [Section 126] has bright orange flower spikes.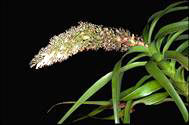 Richea dracophylla - click for larger image
Turn left, opposite a spectacular brittle gum.  On the left a low creeper Muehlenbeckia gunnii [Section 119] has small cream flowers and lovely glossy green leaves.  A mint bush, Prostanthera sp. aff. linearis [Section 119], has profuse mauve flowers.  Unlike many mint mushes, its leaves are only faintly perfumed.  On the right, past the Bottle Tree, Myoporum bateae [Section 302] has pink-mauve flowers and pendulous leaves and Eremophila nivea [Section 302] with soft grey foliage and mauve flowers is showy.
On the left Grevillea asplenifolia [Section 107] has deep pink toothbrush flowers and spreading, horizontal branches.  It must be a wonderful refuge for small birds, although it may be too big for many gardens.  A few steps further along on the right, look for Kennedia nigricans [Section 5] with large black and yellow pea flowers, growing on the ground amongst some Mint bushes.  Still on the right, the drooping foliage of Geijera parviflora [Section 4] suggests its inland provenance.  Look closely to see its small cream flowers.  Underneath, on the right, Melaleuca steedmanii [Section 4] has brilliant red flowers.  Now we're almost at the Rockery where this walk ends but yours can continue. Enjoy!                                                        
Kath Holtzapffel
---
Updated 22 October, 2004 , webmaster, ANBG (anbg-info@anbg.gov.au)
---