---
---
In Flower this Week
A weekly news sheet prepared by a Gardens' volunteer.
Numbers in square brackets [] refer to garden bed Sections. Plants in flower are in bold type.
10 September 2004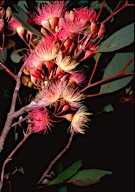 Eucalyptus sideroxylon - click for larger image
 Our fair city is clad with golden wattles as are these Gardens which glow in all areas, so this walk will include a selection of these colourful plants.  In the southern carpark, draping the lower rock wall yellow with soft golden flower balls is the Cootamundra Wattle, a prostrate form of  Acacia baileyana [Section 227] whereas the upper wall is draped with the maturing gold of the prostrate cultivars Acacia 'Gold Lace' [Section 226] and Acacia 'Cascade' [Section 226]  At the far end of the carpark is Eucalyptus sideroxylon [Section 226], a tree with dark flaky bark and an abundance of cream flowers.  Below the Visitors Centre a sloping garden is clad with the pink and cream spider flowers of the prostrate form of Grevillea lanigera 'Mt. Tamboritha' [Section 223].  Ascending the stairs to the Visitors Centre, Zieria formosa [Section 221] is a dense shrub with an abundance of pink buds and tiny pink flowers amid the green-grey foliage.  Opposite, a dense climber, Hardenbergia violacea [Section 172 and elsewhere] is showing few of many sprays of purple pea flowers.
Above Banks Walk the slope is covered with the Snowy River Wattle, Acacia boormanii [Section 210] so brilliant with its soft fluffy flower balls.  Around the corner and sheltered by the wattle, Hakea 'Winter Burgundy' [Section 210] is upright with its startling flower balls tight around the upper stems.  Continuing along the main path Darwinia 'Mondurup Bell'[Section 174] is a small open shrub with its attractive pendent red bell flowers now maturing.  Grevillea alpina 'Warby Ranges form' [Section 174] has an upright open habit with limbs blanketed with short leaves and highlighted with orange-red spider flowers.  Grevillea 'Flame 'n Beauty' [Section 174] is now revealing its toothbrush-like flowers coloured cream with long red styles.
Eucalyptus caesia - click for larger image
Crossing the bridge and in front of the café, Templetonia retusa [Section 224] has large burnt red pea flowers to decorate the upright plant.  The Ellis Rowan Garden contains banksias including the dwarf Banksia spinulosa 'Stumpy Gold' [Section 131] with its deep gold flower spike.  Epacris longiflora [Section 131] has rows of bright red tubular flowers tipped with white pendent flowers from its wandering stems while Grevillea 'Deua Flame' [Section 131] is resplendent with its showy red flower clusters.  Not to be outdone, Epacris 'Nectar Pink' [Section 131] is vivid with stems covered with its pink and white tubular flowers.  Each side of the doors to the Friends Lounge, a wattle cultivar, Acacia 'Scarlet Blaze' [Section 131] is yet a medium upright open shrub so stunning with its many scarlet flower balls dotted with yellow – now that's a find!  It's a unique red flowered form of the usually yellow Acacia leprosa.
The backdrop of wattles across the path are those of Acacia covenyi [Section 240], better viewed from the lower path.  Continuing down the path Grevillea diminuta [Section 239] represents a desirable hedge with rust coloured flower clusters pendent from the dense foliage.  Opposite, Banksia 'Giant Candles' [Section 143] close to Banks Building, has long golden cylindrical flower spikes.  At the entrance to the Crosbie Morrison Building, view the splendid Eucalyptus caesia [Section 239] with their dark flaky trunks and white willowy branches bearing those large yellow centred crimson frilly flowers – worth finding …
Flowers are bursting out all over …
Barbara Daly.
---
Updated 10 September, 2004 , webmaster, ANBG (anbg-info@anbg.gov.au)
---