---
---
In Flower this Week
A weekly news sheet prepared by a Gardens' volunteer.
Numbers in square brackets [] refer to garden bed Sections. Plants in flower are in bold type.
3 September 2004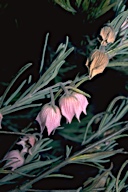 Guichenotia macrantha - click for larger image
 Through the doors opposite the Visitors Centre, view the works of art relating to our spring-time wattles.  There too, are pots of Lechenaultia formosa covered with burnt-red flowers and Sprengelia monticola well covered with white flowers.
Now, after beautiful heavy rain, this walk will identify some of the wonders of the Rock Garden, starting at the base of the waterfall and following a path in an anticlockwise direction. Guichenotia ledifolia [Section 4] has a coverage of downturned cup-shaped pink flowers over the dense shrub, and behind, Guichenotia macrantha [Section 4] is an open shrub with somewhat larger paler flowers.  Ascending the stairs Chorizema cordatum [Section 15S] displays its burnt-red pea flowers terminally on long stems, while a wattle, Acacia alata [Section 15S], continues to bear white globular flowers along its unusual broad stems.  Opposite, the soft pink daisies are Rhodanthe chlorocephala subsp. rosea [Section 15R and elsewhere].  Philotheca gardneri [Section 15R] is a dwarf plant dense with white star flowers, and Philotheca 'J. Semmens' [Section 15R], usually upright, has a coverage of pink buds now exploding to double wax flowers.  Baeckea crassifolia [Section 15R, 15N] displays its tiny pink flowers, so pretty, over the dwarf shrub.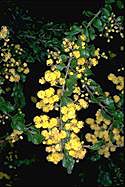 Acacia costiniana - click for larger image
Hardenbergia violacea 'Mini Haha' [Section 15S] drapes its foliage, highlighted with its purple pea flowers, over the rock fall while beside it, Dampiera salahae [Section 15S] with blue flowers also falls over the rocks.  Around the corner Isopogon cuneatus [Section 15P] is radiant with large floppy pink flowers on the medium size shrub.  Leucopogon fraseri [Section 15K] is a low spreading plant well covered with tiny pink tubular flowers and behind, a wattle, Acacia costiniana [Section 15K] has yellow globular flower-heads over the pendulous branches of this small open shrub.
Plants edging the path around this extended section include Pimelea sp. [Section 15N] with a coverage of pink buds and pale pink flower clusters over the dwarf plant.  An emu bush, Eremophila subfloccosa subsp. subfloccosa [Section 15N] is dense with furry short green foliage enveloping the stems and small vivid green tubular flowers squeezing through.  Opposite, on the top road, a section of wattles, many already in flower, include Acacia phlebophylla [Section 3], an open tall shrub with dark green foliage and rods of yellow flowers.  The bluish-leaved form of Cootamundra Wattle, Acacia baileyana var. purpurea [Section 3] is a small tree with branches heavy with golden wattle, draped over the road.
Cryptandra sp. [Section H] at the corner, is a dwarf rounded plant covered with white flowers.  Olearia astroloba [Section 15H] with long branches displays its large mauve daisies while the dwarf Hibbertia virgata [Section 15H] brightens any corner with its open yellow flowers.  Passing by the well perfumed Acacia boormanii [Section 2], with such soft fluffy yellow flowers, continue down the stairs where Phebalium stenophyllum [Section 15A] is bright with yellow flower clusters.  Around the corner the slope is well covered with the pink spider flowers of the ground cover, Grevillea lanigera [Section 15W].  An upright form of Grevillea lanigera [Section 15H] with darker flowers can also be seen.  Opposite Micromyrtus ciliata [Section 15G] is picturesque with dark red buds.
No more room… many more flowers… so fresh after the rain!               Barbara Daly.
---
Updated 10 September, 2004 , webmaster, ANBG (anbg-info@anbg.gov.au)
---