---
---
In Flower this Week
A weekly news sheet prepared by a Gardens' volunteer.
Numbers in square brackets [] refer to garden bed Sections. Plants in flower are in bold type.
20 August 2004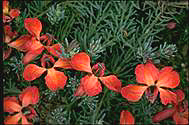 Lechenaultia formosa - click for larger image
 Slowly plants are beginning to reveal their attractive flowers.  Many are yet covered with buds awaiting warmer weather.  This walk will pass by a mix of both, so, edging Banks Walk, Lechenaultia formosa [Section 174] is a dwarf shrub well covered with bright orange flowers while behind, Darwinia 'Monderup Bell' [Section 174] is an open upright shrub with pendent swollen red buds now beginning to open to their lovely bells.  Woollsia pungens [Section 174] covers its upright branches with short sharp uniform leaves and terminating with dense white flower spikes.  Grevillea alpina 'Warby Ranges form' [Section 174] has bright red and yellow flower clusters scattered over the medium shrub, while a Geraldton Wax, Chamelaucium 'Cascade Jewel' [Section 174] continues to bear many dark centred pink wax flowers.
Passing the cafe, the Ellis Rowan Garden contains Grevillea 'Deua Flame' [Section 131] with bright green foliage and pendent red flower clusters.  Epacris longiflora [Section 131] has bright red tubular flowers tipped with white, dangling from its branches.  Epacris 'Nectar Pink' [Section 131] is similar but with pink and white tubular flowers.  Towards the Crosbie Morrison Building, Banksia 'Giant Candles' [Section 143] is a large open shrub bearing elongated gold cylindrical flower spikes while, across the path, Banksia ericifolia var. ericifolia [Section 239] is large and dense with gold flower spikes illuminating the area.  Continue to the entrance of this building to marvel at Eucalyptus caesia [Section 239] with its dark flaky trunk and white pendulous branches bearing those spectacular large yellow centred crimson frilly flowers.
Eucalyptus caesia - click for larger image
Towards the Rock Garden, Thryptomene saxicola 'Pink Lace' [Section 10] has low arching branches well covered with tiny pink flowers.  Across the road Grevillea 'Scarlet Sprite' [Section 119], so dense and rounded, is decorated with scarlet spider flowers.  Edging the path is a dwarf Correa reflexa 'Manoondah Tricolor' [Section 119] with small tubular flowers coloured red, yellow and green.  The brilliance of the Q'ld Silver Wattle, Acacia podalyriifolia [Section 119] also brightens the area with its soft fluffy yellow flower balls mixing with its grey-green foliage covering the small tree.
Passing through the Rock Garden, flowering plants include an emu bush, Eremophila maculata var. brevifolia [Section 15F] with port-wine coloured bugle shaped flowers.  Boronia dichotoma [Section 15F] is a slim dwarf upright shrub with reddened foliage tipped with pink four-petalled flowers, snug between the rocks.  Nearby, Hypocalymma xanthopetalum [Section 15F] is a dwarf shrub covered with small yellow lacy flowers.  At the base of the stairs Phebalium sp. [Section 15A] has terminal clusters of yellow flowers over this open shrub.
Following the winding path to the covered shelter, banksias include Banksia integrifolia subsp. monticola [Section 37] bearing lemon flower spikes on this small shapely tree with silver backed leaves and Banksia plagiocarpa [Section 37] a tall open shrub with many spent flower spikes but also with a few mature dark blue-black flower spikes.  Next to it Grevillea dielsiana [Section 37] with fine sharp foliage, has an array of pendulous red flower spikes adorning this attractive shrub.
Good walking – great Gardens.
Barbara Daly.
---
Updated 20 August, 2004 , webmaster, ANBG (anbg-info@anbg.gov.au)
---